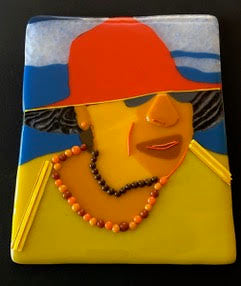 Thriving in Place: Zoe Mosko - Orange Hat
Abrams Claghorn Shop
Regular price $1,100.00 Sale
11 x 14" , Fused Glass
Artist Statement
These days, my work often joins my love of photography and fused glass. My art is my passion, fueled by love and compassion. The transformative properties of glass are a metaphor for life's ever-changing, uncertain landscape. I am grateful during this shelter-in-place to have my own studio and for all the teachers who have guided me.
Ronald Lewis died of coronavirus in New Orleans in March. My piece, "Honoring Ronald Lewis" is based on a photo I took of him inside the House of Dance and Feathers, the museum he created to preserve the culture of New Orleans' Lower Ninth Ward and the Mardi Gras Indians.
I participate in a program inside California's juvenile halls, which encourages locked up teens to express their voices through writing and art. The line drawing in "Juvenile Hall Buddhas" was created by one of the teens. To me it looks like the Buddha. I reproduced it twice: once to symbolize freedom and once to symbolize incarceration.