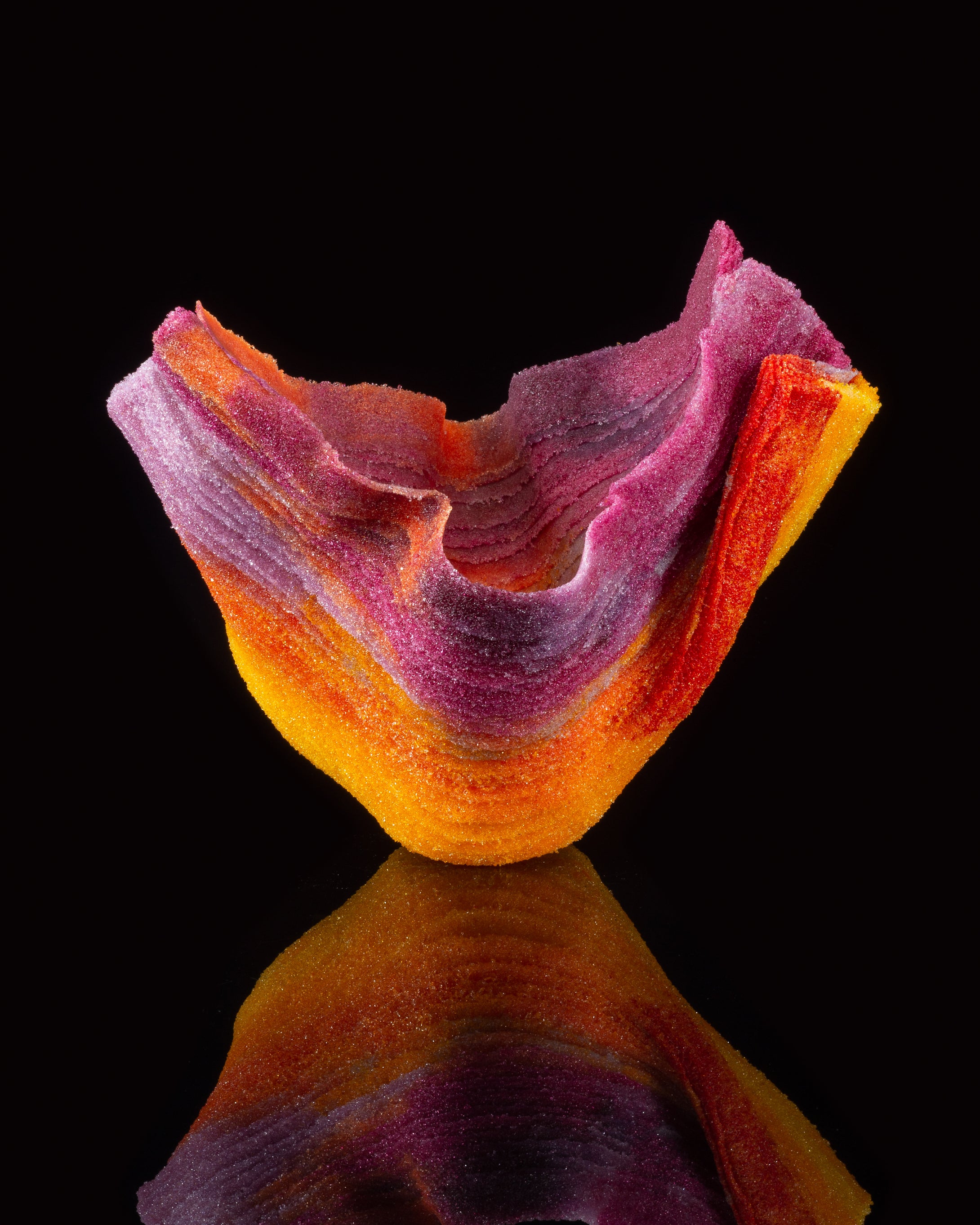 Particles-Susan Longini: Sunset Vessel #10
Susan Longini
Regular price $1,600.00 Sale
Sunset Vessel #10: Pate de Verre Glass, 9" x 11" x 9.5"

Statement
The Sunset Series speak to major daily transitions. Sunset is one of the most beautiful times of day. It is often vibrant and colorful; each sunset is individual, like the fully mature adult. I see these transitions as a metaphor for our lives.
Pate de verre, literally "paste of glass", is an ancient glass-forming technique, first documented in artifacts from Phoenicia and Egypt around 1500 B.C.E. Small granules, or frits, and powders are mixed with binders, pressed into the desired shape, and fired in a kiln to fuse the granules together.
The ancient technique involved adding oxides for colorants: cobalt for blue, copper for green, etc. Today artists are fortunate to have access to frits and powders in a wide range of colors ready for mixing.
I use both small frits about the size of coarse sand and powders in combination. This allows me to densely pack the material and customize colors. I then add a binder to the frit/powder mix, usually a very dilute gum Arabic solution, or sometimes just water, which will burn out or evaporate before the kiln reaches the sintering temperature of 1275-1325°. The binder keeps the pate de verre mix in place, as these pieces are meticulously hand shaped to create the form. 
For the last decade I have created work addressing Transition. The passage from solid to ethereal, changing seasons, and earth's daily transition of day to night and back. Those moments when we are acutely aware of transition occurring are also moments of introspection. They allow us to realize that change is the constant, not only in nature but in ourselves. 
BIO
Susan Longini has been working in glass for almost 40 years. Her primary technique is pate de verre, literally "paste of glass". She is collected internationally and has installations in public buildings, offices and spas around the country. 
She was also a professor of art at Ohlone College in Fremont, CA for many years, Executive Director of the Bay Area Glass Institute (BAGI), on the board of the Glass Alliance of Northern California (GLANC), and on the City of Fremont Art Review Board. In addition to being an active studio artist, she is Program Manager for the City of Fremont boxART! Program, transforming utility boxes into works of art.
DUE TO THE DELICATE NATURE OF THIS ITEM SHIPPING WILL HAVE TO BE CALCULATED & CHARGED SEPARATELY. WE WILL CONTACT YOU TO DISCUSS SHIPPING OPTIONS AFTER THE ITEM IS PURCHASED.