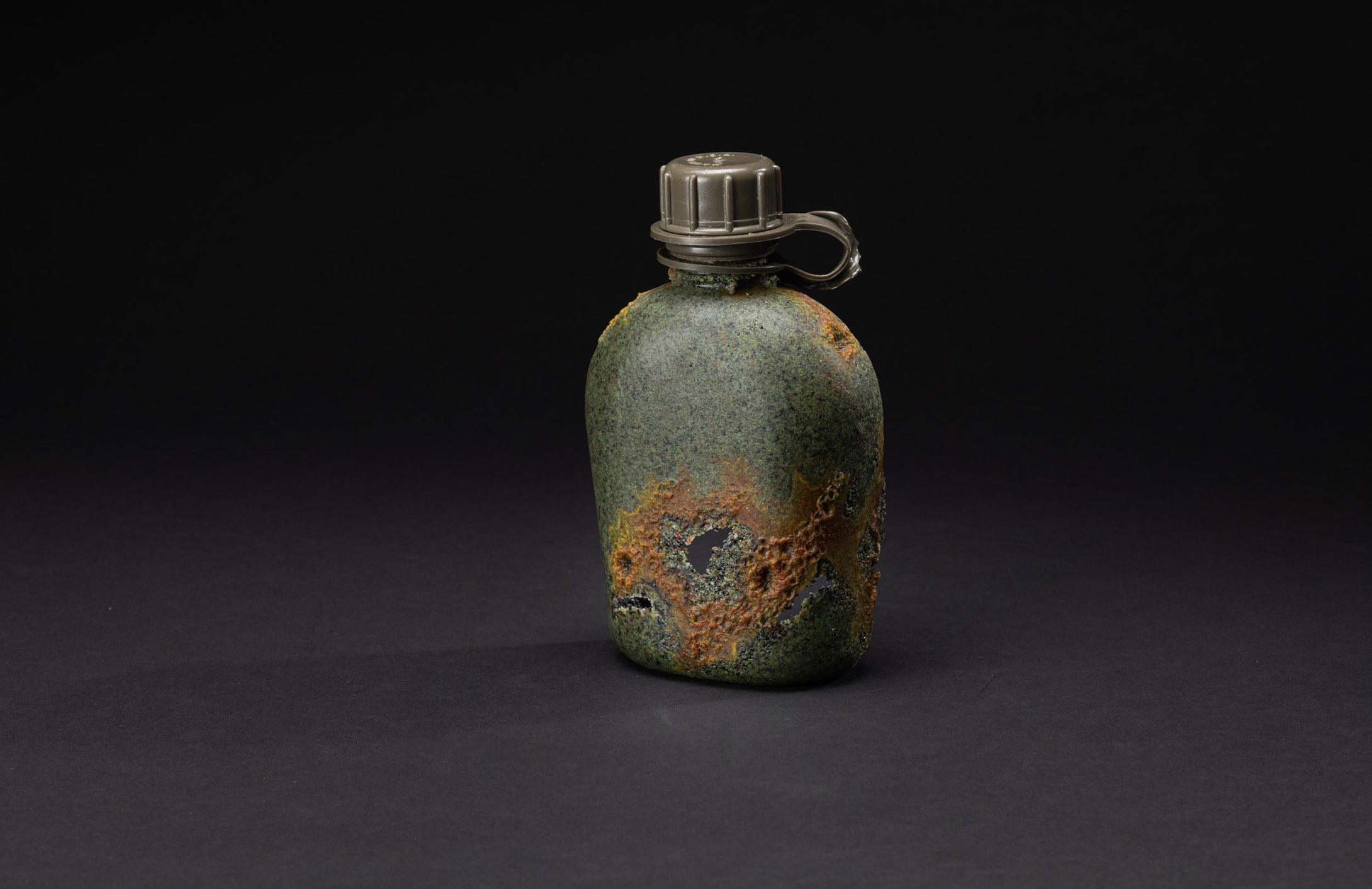 Particles-Geoffrey Bowton: Canteen
Geoffrey Bowton
Regular price $650.00 Sale
Canteen: 5" x 3 1/2" x 9",

Materials: 
Glass
Army-Plastic Canteen Lid
Bio
Augmenting his previous career methods of metal working and military service, Geoffrey R. Bowton informs his current studio practice by applying the investigation and illustration of his ideas. Combined with the fragility of glass, he creates work that embraces tension between these seemingly contradictory materials and experiences to promote conversation about identity, trauma, damage, repair, and healing. Geoffrey utilizes the power of craft to provide insight, support, and representation of the military-veteran community.
In 2019 Geoffrey was awarded the Windgate Fellowship and the Warm Glass UK Glass Prize. Previously, he received the May Georges Metals Scholarship and a Windgate Student Scholarship Award to attend Penland School of Craft. His work has been exhibited internationally and included in recent publications by Warm Glass UK, Glashaus Magazine, Military Officers Magazine, and the Center for Craft.
Statement 
My path to becoming an artist began while embedded inside a combat zone. After deploying to the Middle East for the Army, and subsequently returning to non-military life, I discovered the potential of art to both reconcile and share my experience. My work confronts military service and re-entry into civilian life—examining the physical and mental impact that I, and many infantry personnel, must combat and overcome.
Grounded in a military and veteran perspective, my work focuses on war, post-traumatic stress, the body, mental wellness and the construct of memory—to explore how events configure unparalleled human experience. I am interested in exposing the truth behind military service and providing the viewer insight into these encounters. While deployed, soldiers live under perpetual anxiety and threat of death. This mental burden compounds the physical stress of warfare—resulting in psychological and physical damage. This work provides insight into military and veteran realities to instigate support and healing within veteran communities.
To express aspects of my multi-faceted experiences, I utilize traditional and non-traditional materials and processes to enrich the mixed media nature of my studio practice. From a strong foundation of metal forming and fabrication techniques developed during my previous industry career, my art experiments with the working properties and fragility of glass. These skills, combined with processes of Pate de Verre, kiln-casting and kiln-forming glass, transform materials into visual landscapes of a soldier's life.
DUE TO THE DELICATE NATURE OF THIS ITEM SHIPPING WILL HAVE TO BE CALCULATED & CHARGED SEPARATELY. WE WILL CONTACT YOU TO DISCUSS SHIPPING OPTIONS AFTER THE ITEM IS PURCHASED.