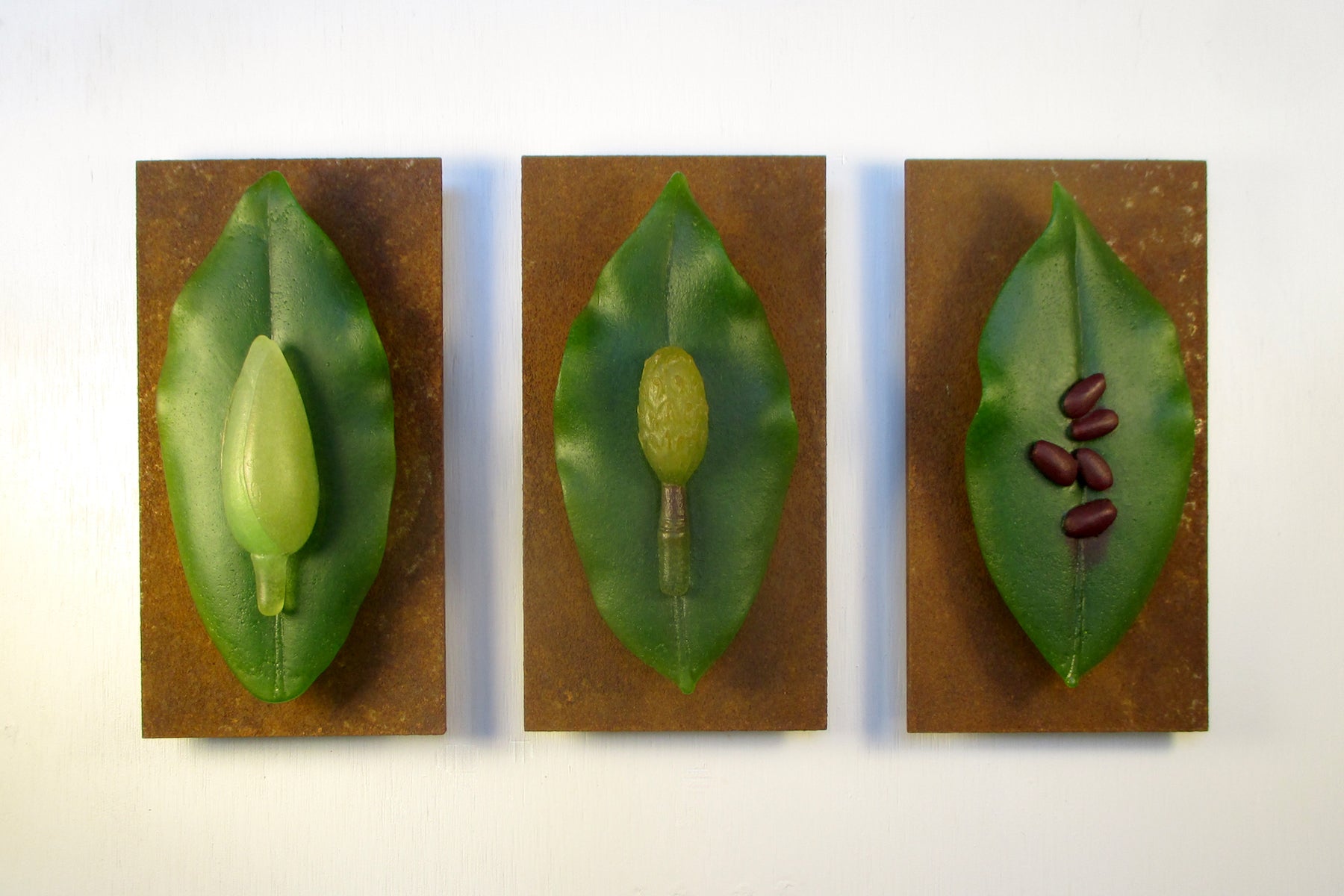 Particles-Ellen Abbott: Magnolia Leaves with Flower Bud, Nascent Seed Pod, and Seeds
Ellen Abbott
Regular price $1,800.00 Sale
Magnolia Leaves with Flower Bud, Nascent Seed Pod, and Seeds: Pate de Verre kiln cast glass, 3 Pieces 7" x 4" x 2" Each
Brief biography:
Ellen Abbott and Marc Leva have been working in glass as a team since 1976 after a serendipitous afternoon propelled them into the burgeoning studio glass movement and the establishment of their studio, Custom Etched Glass. Ellen's life long series of art classes and Marc's craftsmanship and problem solving skills enabled them to design and create carved and etched architectural glass for a national clientele. After over 40 years of producing commission work for homes and businesses, Ellen and Marc have retired from this work to concentrate on the small sculptural work in the pate de verre lost wax kiln cast method. They became interested in cast glass in the early 1980s and began their journey in the technique by using custom cast crystal forms in some of their commission work. This interest in cast glass eventually provided another outlet for creative expression and in 1994, they started exploring the pate de verre method of cast glass by testing out ceramic, jewelry, and bronze casting techniques, as there was no instruction available and developed the process they use today.
Art Statement:
Growing up, my family lived in a wooded neighborhood where lots were measured in acres. Neighbors were fairly close but with intervening spaces filled with woods the neighborhood was bordered on one side by a bayou. This is where I spent a lot of time, roaming around in the woods. This exposure to nature during these years had a formative effect on the imagery my art would take much later in life. As I've grown and lived, I've come to understand how connected all life is, how interdependent, how dependent we are on the other life forms for our own survival. And yet, we indulge in activity every day that does harm to the very things that sustain us. What I try to do with my work, with these pieces, is to showcase the beauty and diversity of the small forms of life to show that they not only deserve to exist but must exist. Quote: "In jurying art in competition, I always seek a match of creative originality with technical excellence, and I believe we as a jury have chosen well. Because I see few contemporary examples in the United States of realistic imagery in the pate de verre technique, I want to give an individual commendation to Ellen Abbott and Marc Leva for their Egg Cup 2. In this exacting process, such fine work reminds us not only of some of the finest historical work, but it also serves to inspire others to venture forward with more new ideas to bring pate de verre further into the mainstream of contemporary glass art." - Lloyd Herman, founding director of the Renwick Gallery of the Smithsonian in Washington DC, from the 2004 exhibition catalog of the E-merge: WG @ BE juried exhibition.
DUE TO THE DELICATE NATURE OF THIS ITEM SHIPPING WILL HAVE TO BE CALCULATED & CHARGED SEPARATELY. WE WILL CONTACT YOU TO DISCUSS SHIPPING OPTIONS AFTER THE ITEM IS PURCHASED.