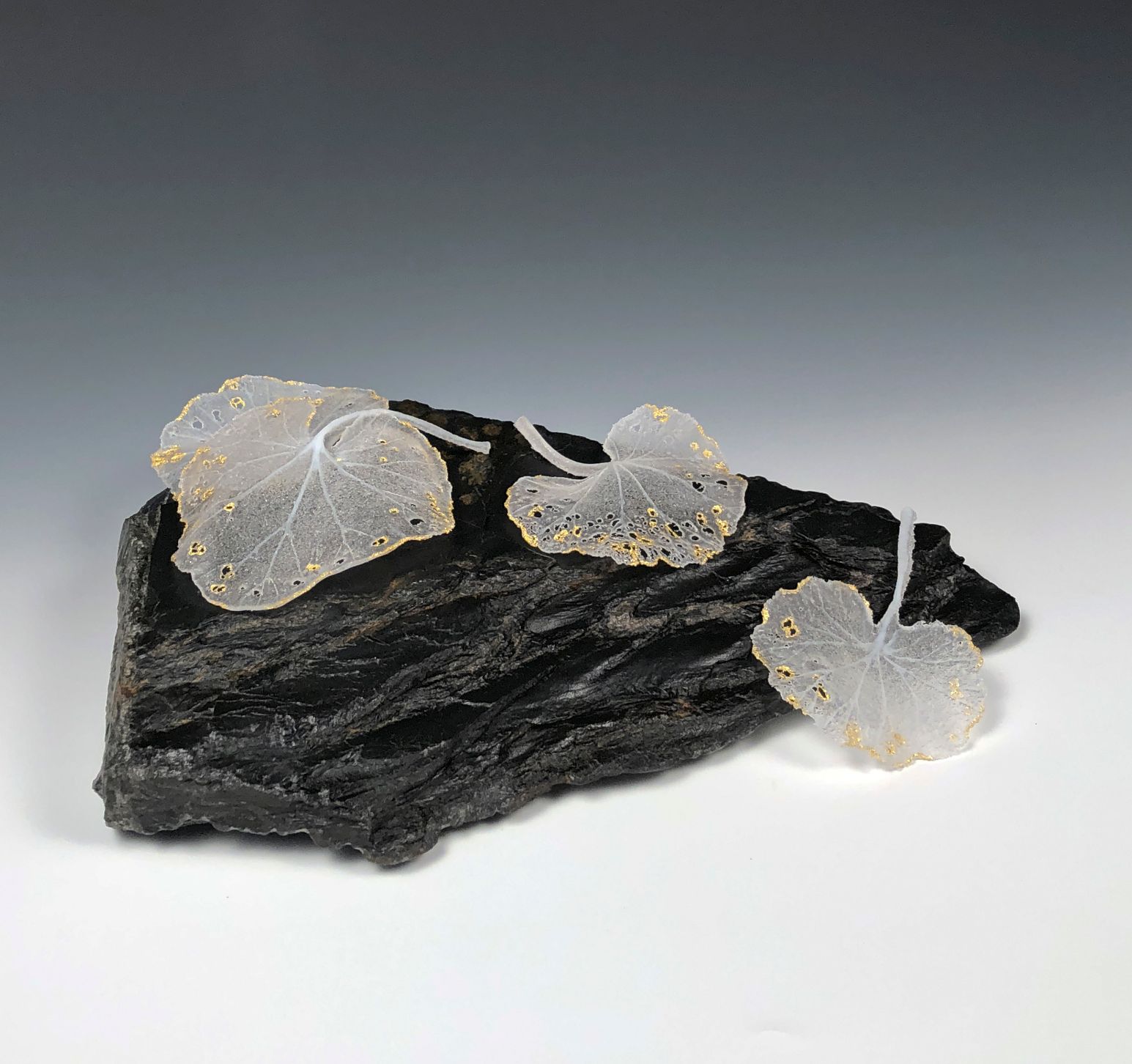 Particles-Demetra Theofanous: Gilded Memories
Demetra Theofanous
Regular price $3,000.00 Sale
12" x 11" x 3"


Bio
Demetra Theofanous works primarily in flameworked glass and pate de verre.  She developed a technique for weaving glass on the torch that became the foundation for her work, and uses pate de verre to explore hyperrealism of natural forms.  Theofanous is internationally recognized for her sculpture, teaching and exhibiting worldwide, including exhibits at the Ming Shangde Glass Museum in China, the Triennial of the Silicate Arts in Hungary, the Imagine Museum in Florida, and the Bellevue Arts Museum in Washington.  She is held in numerous private collections, and the permanent collection of the Racine Art Museum and the Jordon Schnitzer Family Foundation. In 2017, she was an Artist in Residence at the Marin Museum of Contemporary Art with Dean Bensen, where their exhibition "Intertwined" showcased the environmentally sensitive work created during their residency.  Notable awards include a Glass Alliance of Northern California Scholarship, a Juror's Choice Award from Dorothy Saxe, a Merit Award from renowned artist Paul Stankard, a CERF Grant, and Silicon Valley's Leigh Weimers Grant. She is also an educator, teaching at top institutions such as Pratt Fine Arts Center and Pittsburgh Glass Center. Demetra also serves as Board President of the Glass Alliance of Northern California and joined the Glass Art Society Board in 2018.
Statement
I have always felt a strong connection to the natural world, and am intrigued by the parallels to the human experience.  Technique merges with narratives in my work, to highlight environmental challenges and express metaphorical bridges between nature and human beings.  My pate de verre works utilize botanical forms as a vocabulary to express emotional landscapes within, that tie us inextricably to a sense of place regardless of where our journey takes us.  The passage of time, and the connection between memory, our environment, and the formation of our identity are themes I explore. My work connects the viewer with the story of the natural world, and instills an appreciation for its' interconnectedness to humanity, and its' inherent fragility.  Glass is a material well suited, to convey this fragility that exists
I create large scale decaying leaf installations with Dean Bensen, that reflect on our impermanence and vulnerability.  What we do has impact – often unforeseen and unmeasured – on our lives, those around us, and the environment. The wind is a metaphor for life's challenges – a force that can lift us, push us down, or hurl us about.  Whether we are complacent or exert a need to control our journey, there is an inherent unpredictability in life that cannot be contained or measured. A pile of leaves hit by a gust of wind is a metaphor for this uncertainty.  It expresses that pivotal moment of change, when things we took for granted are suddenly gone, and life can change forever in an instant. The absence of color in some works, accented with 24k gold, expresses this moment of loss, and the preciousness of what we once had.  Existing peacefully with others, and protecting our natural resources, is a tenuous balance highlighting our interdependence on others and the earth.
DUE TO THE DELICATE NATURE OF THIS ITEM SHIPPING WILL HAVE TO BE CALCULATED & CHARGED SEPARATELY. WE WILL CONTACT YOU TO DISCUSS SHIPPING OPTIONS AFTER THE ITEM IS PURCHASED.