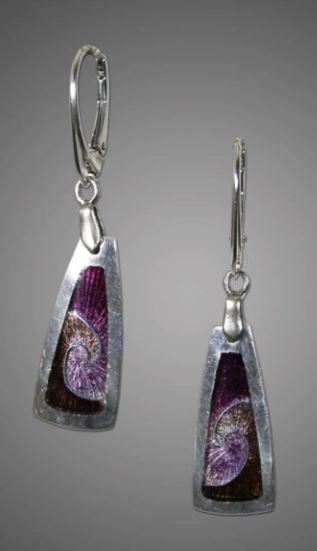 Michele Dodge: Earrings-Purple & Brown
Michele Dodge
Regular price $195.00 Sale
Rectangle Cloisonne-These cloisonné enamel earrings are a curved rectangle shape and feature a beautiful abstract spiral pattern. Each pair is made of transparent vitreous enamel on fine silver. The ear wires are high-quality sterling silver lever backs. Lever back ear wires offer extra security.
When my chronic migraines became too much to continue working a 9-to-5 job, I decided that I needed to work for myself. It was important to be able to set my own hours, and take sick time when I needed it. Slowly, I started buying jewelry components. I sold my new jewelry creations online and at small local shows. Soon I realized that I wanted to do more in jewelry, so I enrolled at the Revere Academy of Jewelry Arts in San Francisco, where I earned my Jewelry Technician diploma. I also enrolled in classes at the Gemological Institute of America, where I earned my Accredited Jewelry Professional certificate.
Recently, I have found my passion in cloisonné enamel, gemstones, and fabrication. My art half is satiated by the hours spent designing new pieces and playing with color. My science half is satisfied because I use my knowledge of gemstones and metal alloys in my work, and I base designs on mathematical principles. As a jeweler, I love to create for my fellow nerds and geeks.