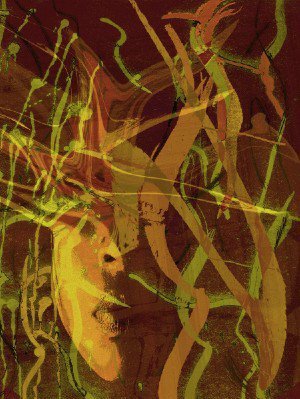 Liberation, Celebration & Defiance: Donna Meke'da Bradley-Self Portrait
Donna Mekeda Bradley
Regular price $200.00 Sale
21x17", Digital Print        
 As a poet first, and 2 & 3d designer I tend to use
          mediums that transcends to me as visual poetry.
          The process of mixing media gives me the chance to 
          experiment with techniques in various styles, capture
          and merge the world' s harmony or disharmony
          through concept. In abstracting forms, and enticement of  
          color or no color through light and lens, is a way to document 
          stories, memories, illusions, and perspective. I use imagery
          similar  like metaphors in writing, or a play on words unwritten.
          The camera is an extension of my vision, and a shared
          interpretation of the world viewed as, and described by 
          the eye of a poet. The artistic result is work that relates to
          social, and cultural content to seduce dialogue of the viewer.
          It is also the love of process that lures me to use the tangible 
          photograph as media, and deconstructing the image to create
          collage, graphics and other two, and three dimensional 
          composition in abstraction and surrealism.   
          My latest work is based on identity and discovery as an artist an
          and its ongoing journey.