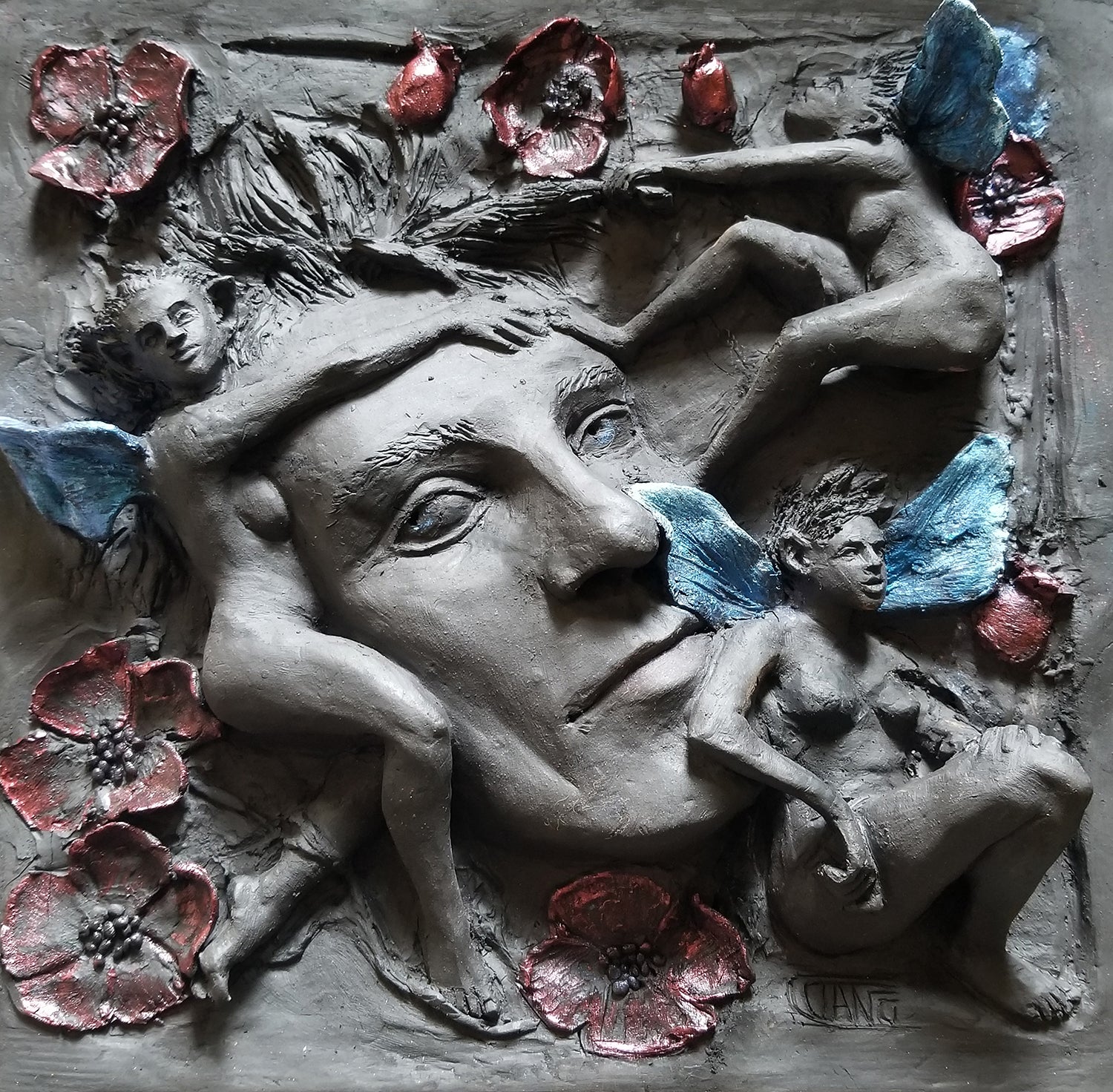 Devastating Loves & Transcendent Hatreds : Christine Cianci : Necessitudo 3 
Abrams Claghorn Shop
Regular price $750.00 Sale
Necessitudo 3
Ceramic, metallic powders, 12 x 12 inches, 2020
The Necessitudo Series: Necessitudo is a Latin word that means "need." In history, it has been used to describe two things: an obligation and a close connection or relationship between people. This series of three pieces traces a relationship through the symbolism of plants, while the addition of vengeful fairies represent "voices." 
In the first piece the face of the lover is surrounded by opium poppies, the drug of infatuation. The fairies surrounding him, his voices, are playful.In the second, he is surrounded by poisonous plants, the poison of a soured love, and the fairies are sickened and languish. In the third, the face is rooted down by briars, eyes closed, the barbs holding him in place while the fairies have their way with him.
Christine Cianci's work focuses on the human figure because of its ability to evoke feelings in the viewer. Her work is inspired by dreams and heavily influenced by a love of history, literature, and myth. She also incorporates political or feminist issues, and many pieces reflect a dark sense of humor. Christine holds a degree in Fine Art attained later in life but is largely a self-studied artist.
Her ceramic or plaster pieces are figurative and narrative in concept. She prefers the earthiness of black clay, tinting it with oil colors or gilding after firing rather than using glazes.
In keeping with a fascination with symbolism, Christinecreated the Roman Tarot Deck, an ancient Roman themed deck, and is also the author of three books, including the companion books, The Roman Tarot: A Contemplative Guide to the Symbolism and Reading of the Roman Tarot.