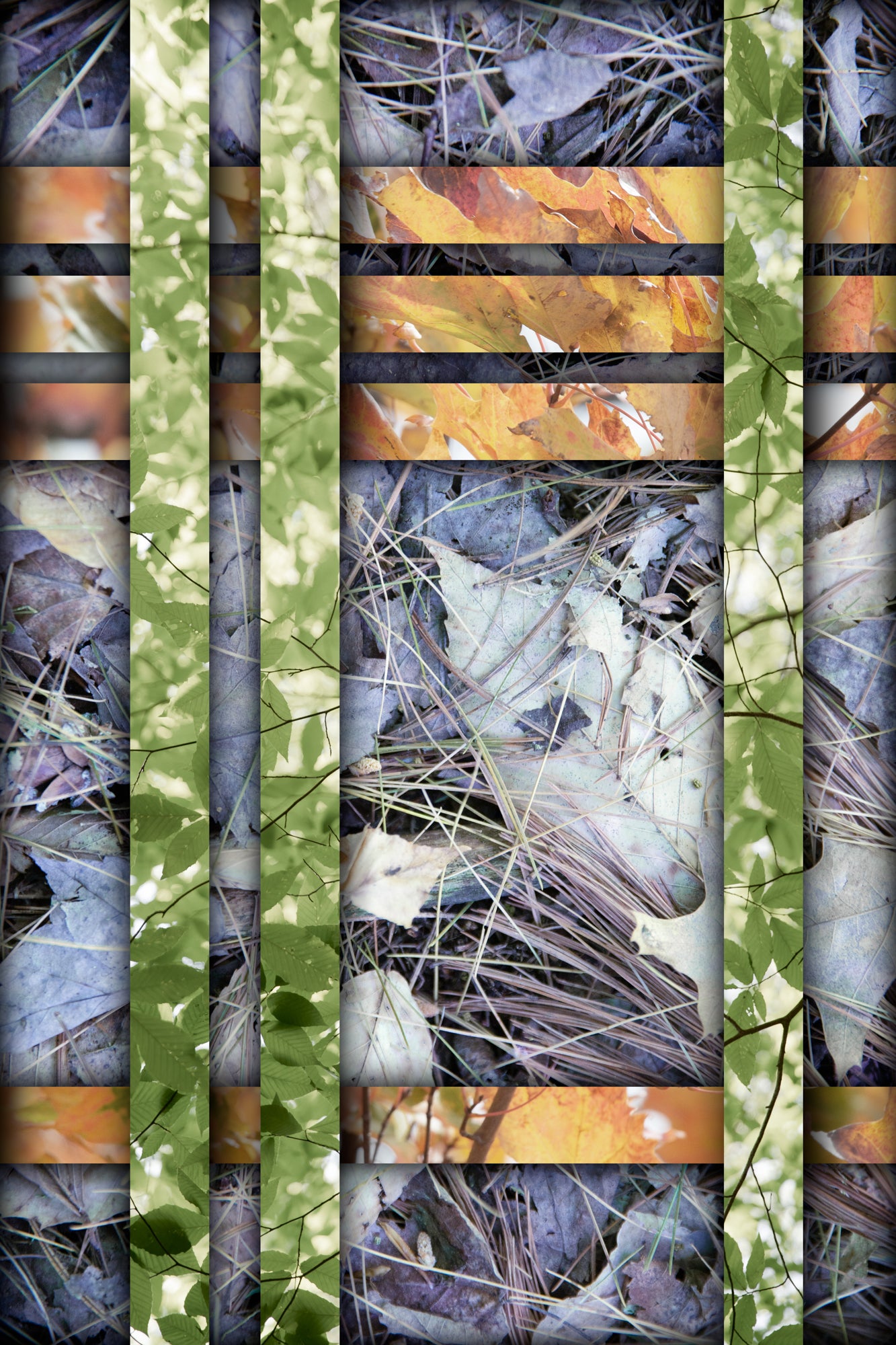 Transitions: Tony Kay: Strata - Leaves
Tony Kay
Regular price $600.00 Sale
Strata  - Leaves
21x29" 
ARTIST STATEMENT:
Nothing remains the same over time. Transitions are the edges between different states of being, much as geologic strata delineate different eras. My Strata Series explores the transition idea as layers representing evolving states of being. As the viewer descends through the layers, the rectilinear shapes represent transitions as edges between the states. The viewer is invited to explore the nature of these and other transitions—how they occur over time (sudden or gradual) and what kinds of forces cause the change.
To learn more about how I approach making art, please visit my website at tonykayart.com. I can be contacted at tkdzin@gmail.com.
EDUCATION:
> Bachelors in Landscape Architecture, UC Berkeley, CA -Including many art and photography courses.
> Art Center College of Design, Pasadena, CA - Composition, Painting
> UC Extension photography courses
> Apprenticeships with many photographers
RECENT EXHIBITS/AWARDS:
> 2021 Oakland Art Association - Online Show - Juried Competition - Third Prize
> 2020 John Muir Hospital, Walnut Creek, CA (group show) - Juried Competition - Honorable Mention
> 2020 Alameda County Administration Building, Oakland, CA (group show) - Juried Competition - First Prize
> 2019 Alameda Law Library, Alameda, CA (group show) - Juried Competition - Honorable Mention
> 2019 Abrams Claghorn Gallery, Albany, CA (group show) - Juried Show
> 2019 Alameda Law Library, Alameda, CA (group show) - Juried Competition - Second Prize
> 2019 Art Passage Gallery, Berkeley, CA (group show)
> 2018 San Pablo Art Gallery, San Pablo, CA (2-person show)
> 2018 Alameda Law Library, Alameda, CA (group show) - Juried Competition - First Prize
> 2018 Oakland City Hall (group show) - Juried Competition - Third Prize
> 2015 Expressions Gallery, Berkeley, CA (group show)
> 2017 Rockridge Library Gallery, Oakland, CA (group show) - Juried Competition - First Prize
> 2017 Alameda Law Library (group show) - Juried Competition - Second Prize
> 2017 Marin Society of Artists, San Rafael, CA (group show)
> 2017 Lightroom Gallery, Berkeley, CA (solo show)
> 2017 John Muir Hospital, Walnut Creek, CA (group show)
> 2017 Oakland City Hall (group show) - Juried Competition - Honorable Mention
> 2016 First Federal Savings Bank, Oakland, CA (solo show)
> 2016 Piedmont Gardens, Oakland, CA (solo show)
> 2016 Alameda Free Library, Alameda, CA (group show) - Juried Competition - Honorable Mention
> 2015 Alameda Law Library, Oakland, CA (group show) - Juried Competition - Second Prize
> 2015 Oakland Chamber of Commerce Gallery, Oakland, CA (group show) - Juried Competition - Third Prize
> 2015 Rockridge Library Gallery, Oakland, CA (group show) - Juried Competition - First Prize
> 2015 Art Passage Gallery, Berkeley, CA (group show)
> 2015 Expressions Gallery, Berkeley, CA (group show)