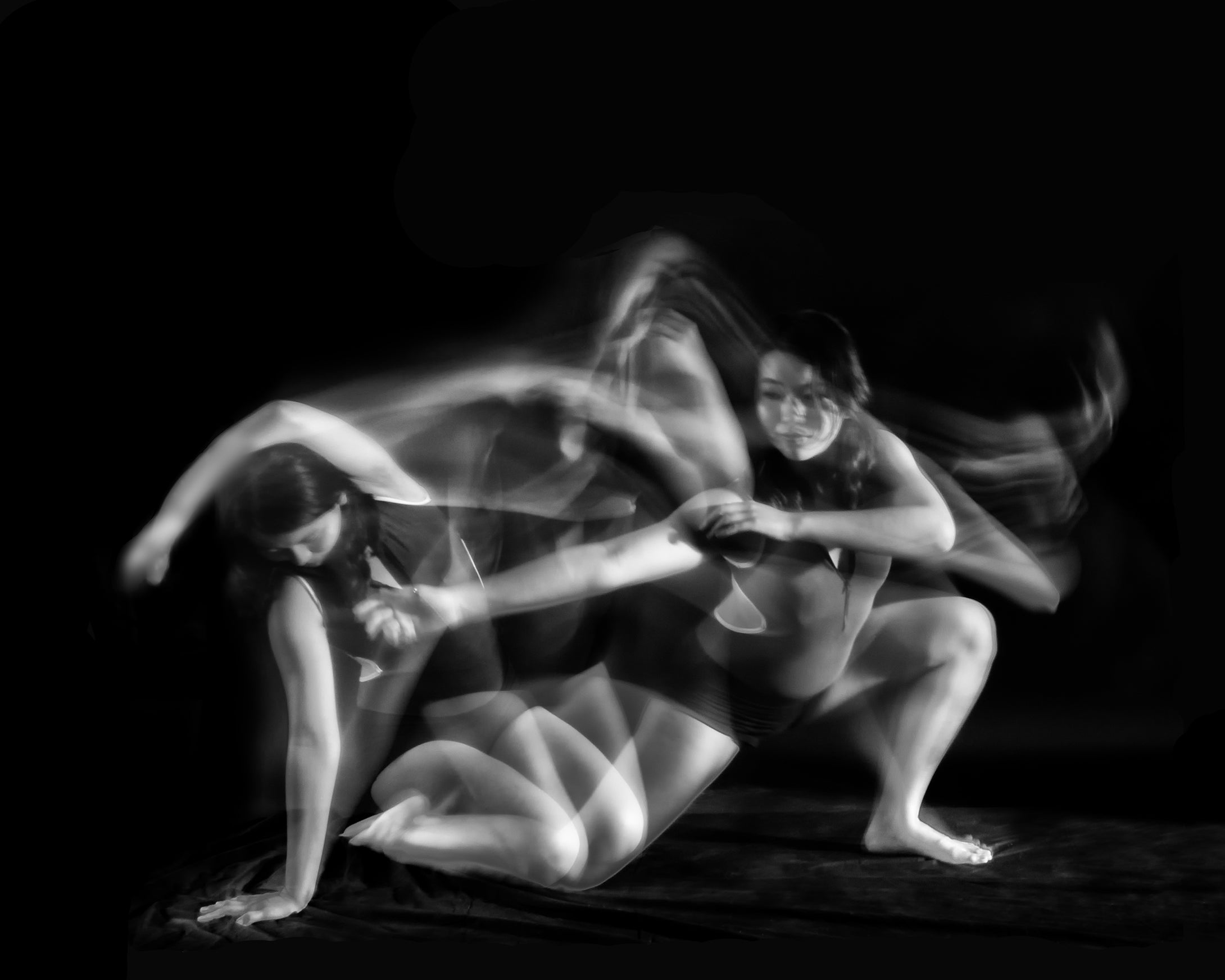 Transitions: Ron Rothbart: Dancer in Motion #1
Ron Rothbart
Regular price $375.00 Sale
Dancer in Motion #1
16x20"
Artist Statement
"The camera is much more than a recording apparatus. It is a medium via which messages reach us from another world."  -- Orson Welles 
I use my camera to gain access to a reality we don't ordinarily see. Using long exposures, different lenses, and unusual  angles, I can show the world in new ways.  Strange things not seen with the naked eye begin to appear: star trails, ghost-like figures, silky smooth seas, flowing clouds.  I can grab decisive moments, capture change, distill time, show transitions from one state to another, and suggest  growth or emergence.
My contributions to the Transitions exhibit include a tree reaching to the sky as it grows and  a dancer's movements.  The dancer project was a collaboration with Mike Slack, who supplied studio and strobe light, and Alice Chacon, dancer, videographer, and my niece. The title "More Than Tree" comes from this poem by Langston Hughes:
"And so the root
becomes a trunk
And then a tree
And seeds of trees
And springtime sap
And summer shade
And autumn leaves
And shape of poems
And dreams —
And more than tree."
My work has been exhibited at Abrams Claghorn Gallery and Nielson Arts in Albany, the LightRoom, Photolab, and Thousand Oaks Gallery in Berkeley, Berkeley City College, Blake Garden in Kensington, the Art Gallery at the Orinda Library, the Darkroom Gallery in Vermont, and various other locations. Prints are held in permanent collections at Musée des religions du monde, Québec and City Hall, Citrus Heights, California. Publications include Photography Week, Sierra Club Yodeler, Planning Magazine, Saints and Sinners Magazine, the Chicagoist, San Francisco People's Calendar, Save the Bay Calendar, Berkeleyside, and the Point Reyes Association catalog.
You can see more of my work at https://bit.ly/3k6r1m1. If you want to purchase one of my prints or just get in touch, please email me at ron_rothbart@pacbell.net