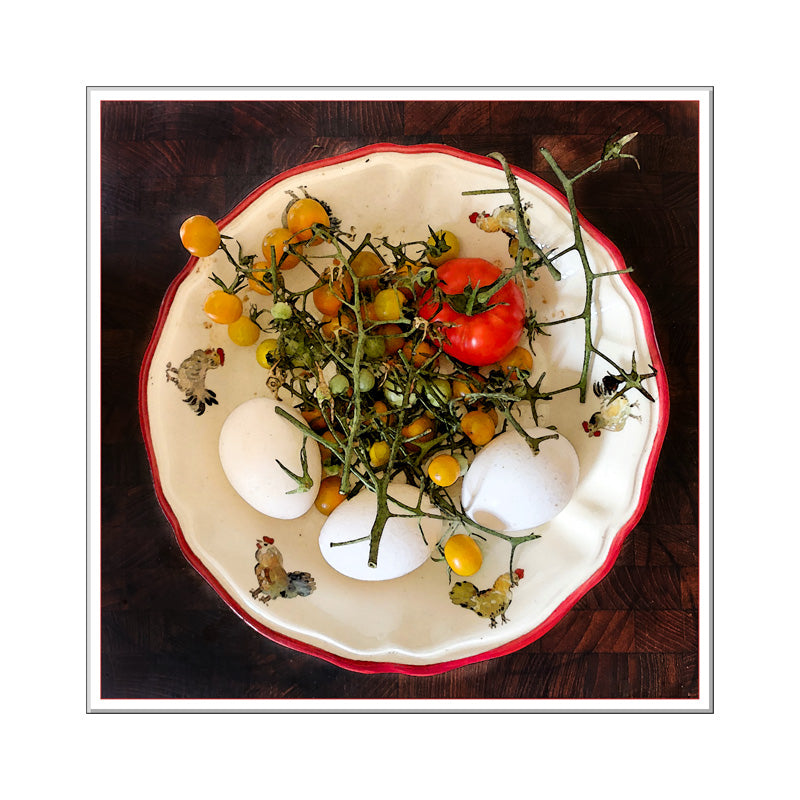 Transitions: Michael McNamara: 3 Eggs with 1 Red Tomato and Some Cherry Tomatoes
Michael McNamara
Regular price $250.00 Sale
3 Eggs with 1 Red Tomato and Some Cherry Tomatoes
13x13" 
This Work:
In the miasma of 2020, our wider circle of many became two: my wife Kathleen and me. Like many others, we revived our artisanal past, planted a garden, and caught up on reading. And gave thanks upon waking the next morning. This color work celebrates simple life-giving things: what we grew in our garden and what we gathered at the grocery store curb. Framing here is white for light and lightness.
Making the print:
Handcrafting the print from the moment the image forms in mind's eye to readying it for display is fundamental. I interpret the exposure; print using Epson archival acid-free paper and archival inks, mount and sign it, and then finish it for hanging. My chop authenticates the print.
A Short Story:
Michael McNamara began learning about light, shadow, and form through the eye of a 1930s Nagel Vollenda. He uses Nikon and Fuji products now.
The scope of his work is dominantly fine art. His essential style is photojournalistic, typically in black and white. It includes events, portrait, and custom photography.
Michael is a Master of Photography, awarded by the Professional Photographers of America in 2014 to recognize his superior competence shown in photographic competition, advanced education, and service to the profession. He is a member of the Berkeley Fine Art Photographers.
He has exhibited work in Atlanta, Berkeley, Nashville, New Orleans, Orinda, Pasadena, Phoenix, and San Antonio.
Vignettes:
There is no good reason to make an image other than for people to see it.
You can look at an image, then talk and write about it. After a while, though, you forget the words and only remember how it made you feel.
Success in photography has a lot in common with hunting and fishing: patience, mostly, and a ready openness to surprise.