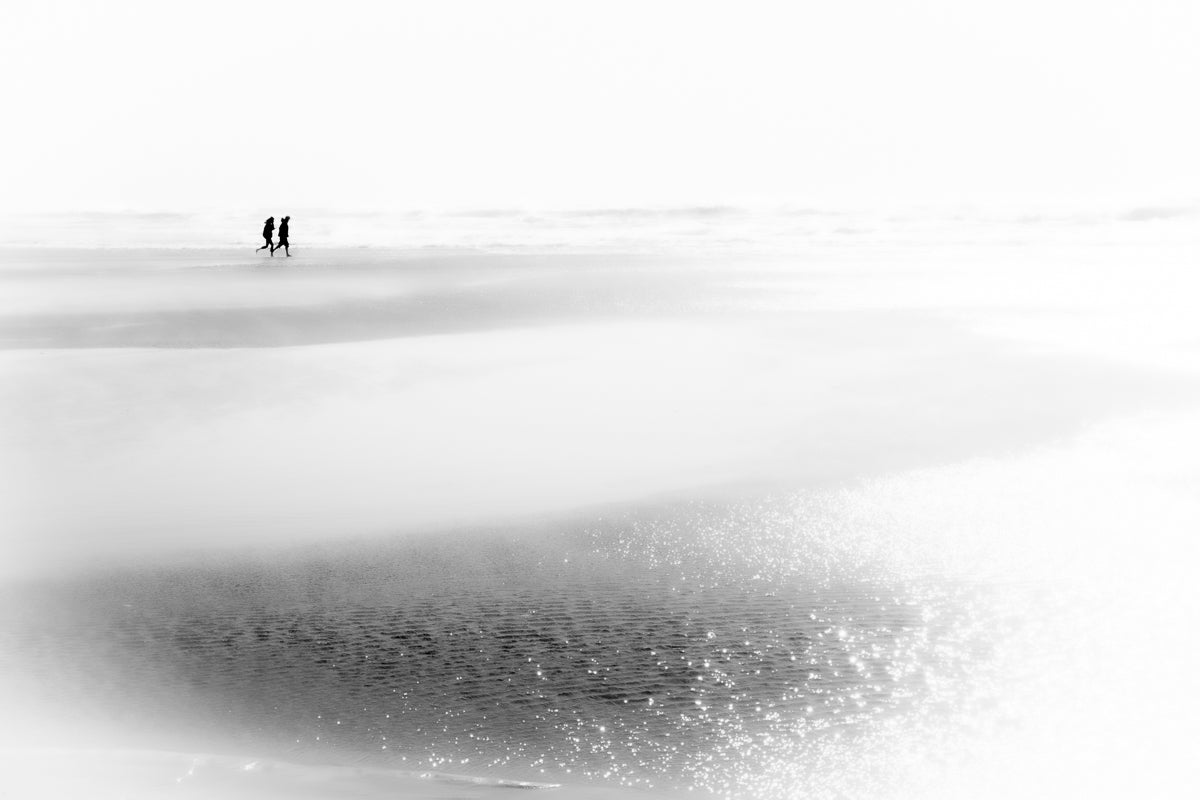 Thriving in Place: Diane Rice - Dreaming of Freedom
Abrams Claghorn Shop
Regular price $400.00 Sale
18 x 24", Digital Print
Artists Statement
I am fortunate to be included in this exhibition of fellow artists' inspirations during this crisis.  By sharing, we can lend strength to each other and to the community during this time of sheltering in place.
Generally, my goal is to create photographs that convey an emotion, mystery, mood, or a story and I enjoy using Photoshop to enhance such effects.  One of my favorite projects is a series of shoreline photographs, several of which have been taken at San Francisco's Ocean Beach.  It is possible to photograph from different viewpoints on the cliffs and the beach. Usually it is foggy with the weather and clouds changing during the day. The patterns of people gathered for various activities and how those patterns change with the seasons and relate to the incoming water fascinates me. During the long low tides there are often fabulous reflections on the sand.  I can produce various effects in post processing, which has kept me busy during this time of sheltering in place.
"Dreaming of Freedom" was taken on an unusual King Tide, sunny skies and strong wind.  I was on the beach just as the couple ran into the sun and sparkling water, a delightful reminder of freedom in these difficult times.  I hope that such joy will return to all of us in the not too distant future.
Artist Bio
Berkeley based photographer, Diane Rice, has been taking pictures for most of her life, beginning with photographs in places to which she travelled.  To incorporate emotion and story in her photographs, Diane often uses post-processing techniques involving several photographs in a composite effect.  You might notice a love of form and texture in her photographs, which comes from her background in pottery and ceramic arts.
Much of Diane's inspiration comes from the natural world and a desire to communicate feelings and emotions with a passion for the elegant and simple.
In the past few years Diane's work has been shown in various juried shows in the Bay Area including:
Abrams Claghorn Gallery
ACCI Gallery
California Coastal Commission
Coastal Arts League Gallery
Marin Society of Artists
Richmond Art Center