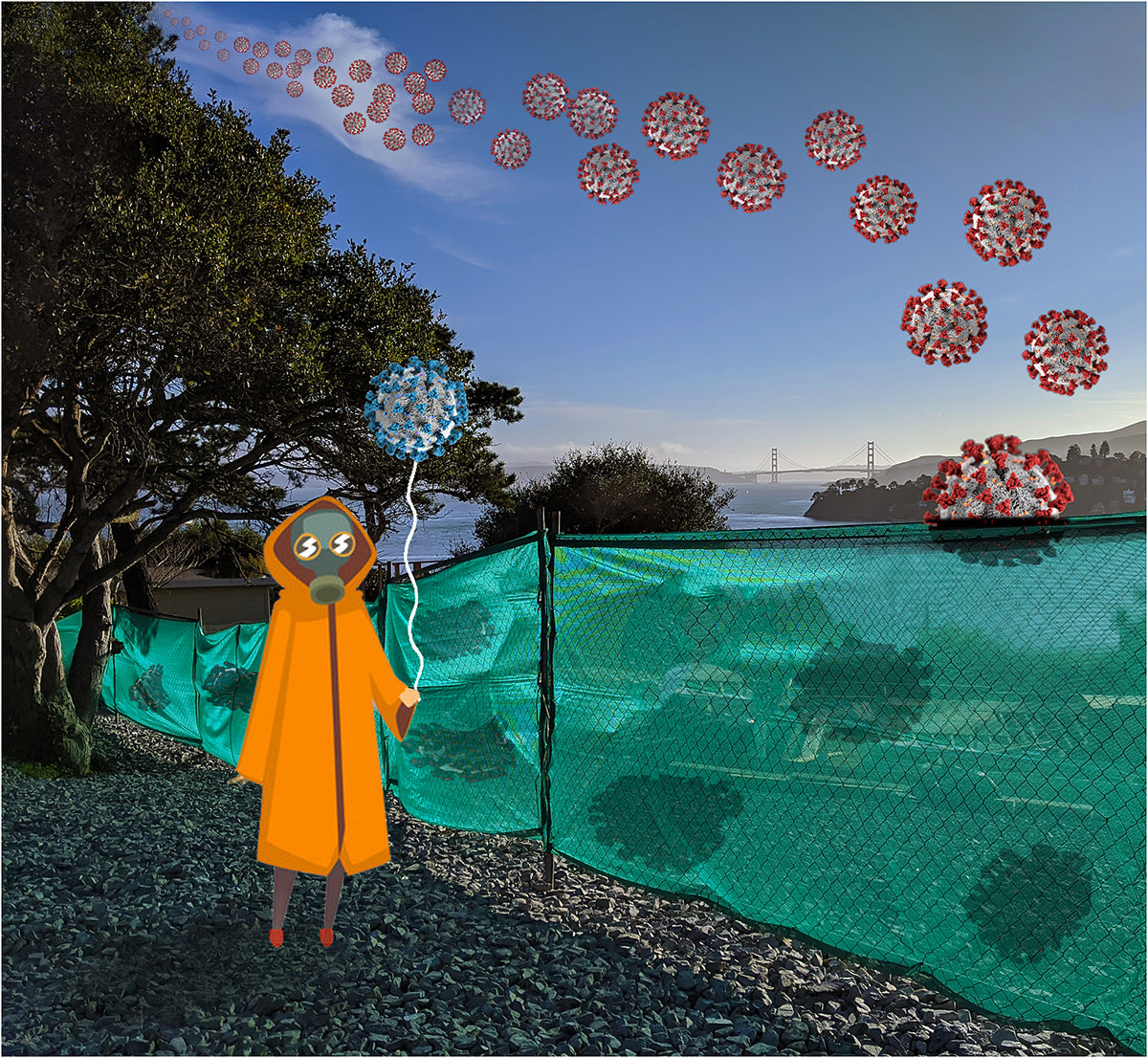 Thriving in Place: Chris Adamson - If Ever Immunity
Abrams Claghorn Shop
Regular price $200.00 Sale
Digital Print
From the Artist: I captured the basic photo during a walk with our friends around Tiburon this last January. A beautiful view of the Golden Gate Bridge oddly interrupted by the green plastic fencing. At the moment of capture, I knew the open area of blue sky needed something to fill the empty space. "I'll figure it out later" – I thought to myself.
Around May, the idea for this photo popped into my head. The green fence became the symbol of immunity against covid-19. The virus coming up against this immunity fence and falling dead. Meanwhile, the human race protected on the other side holding a blue covid-19 balloon in defiance.
I hope you enjoy my seriously humorus photo.
Artist Bio: I am a street photographer, mostly.  I currently use a Sony rx100 m6 digital camera and a Google Pixel 3a.  I use no other equipment except extra batteries and memory cards.
I was inspired to practice the art of photography during an evening at a friend's house.  The other guest was a commercial fisherman and photographer. Seeing her slide show instantly made me want to be a photographer. That was 1973.  From 1973 to 1986, I tried several formats, from 35mm SLR to 4x5 view, and finally Pentax 6x7. During this period I sold photos on Telegraph Avenue in Berkeley, had a 4x5 photo published in the Sierra Club's engagement calendar, and attended the Friends of Photography seminars in Carmel.  I learned from teachers like Ansel Adams, Richard Misrach, Olivia Parker, and Jerry Uelsmann.
In 1986, I went on a caribbean cruise vacation with my future wife. I bought a compact underwater camera (a Fuji HDM) to get some photos of our reef diving experiences. I loved using that camera so much that it became the only camera I used for all my photography. I was discovering how much I really liked the quickness and speed of street photography. For 10 years I used that camera.
The final step to my current state of affairs was in 2003, when I went digital. This removed the cost of film, and I was free to take as many photos as I wanted. Also, either camera is small enough to fit in my shirt pocket, so it is out of the way, but easily available when needed. I can take the camera everywhere. I have found over the years that the very act of taking photos is what gets the creative juices going for me.
I had experience in the darkroom years ago. Today, the darkroom is a computer. I use mostly Photoshop to edit the photos to their final form.