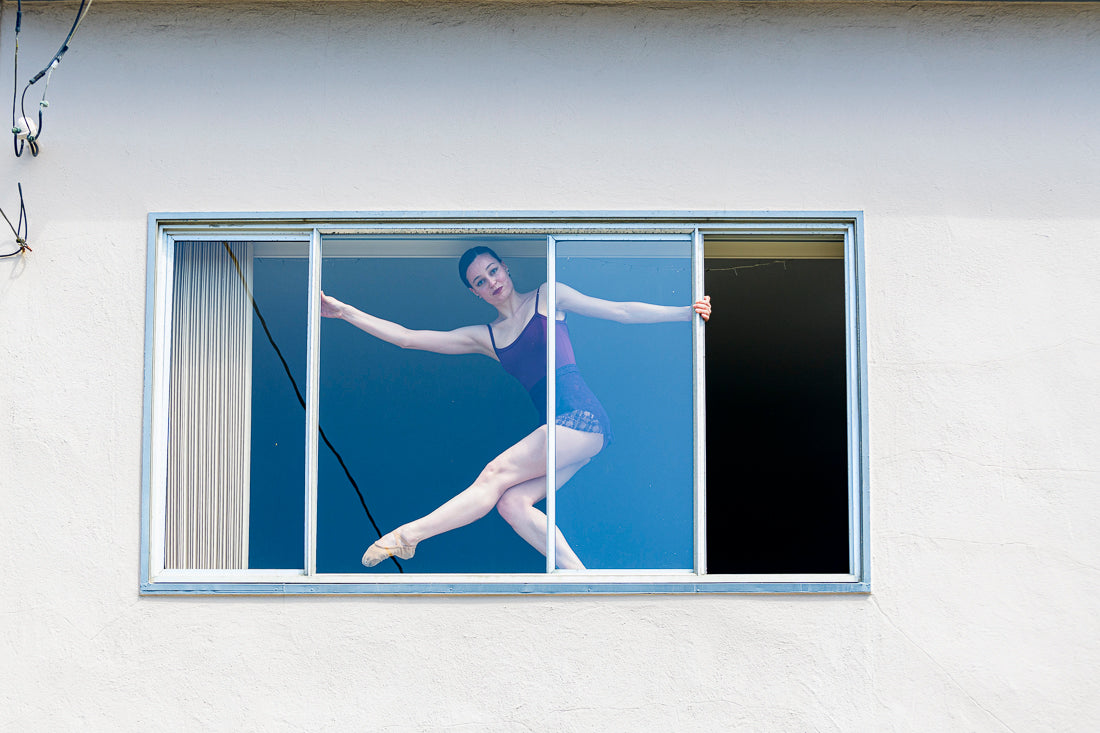 Thriving in Place: Kyle Adler - Dance Like Nobody's Watching_DLNW10
Abrams Claghorn Shop
Regular price $1,295.00 Sale
24 x 36",  From the Series Dance Like Nobody's Watching
Artist's Statement: Dance Like Nobody's Watching Project
Every one of us has been impacted by the COVID-19 pandemic, and we all have a story to tell. In early March, as the SF Bay Area became the first region in the USA to impose shelter-in-place orders, award-winning travel and performing arts photographer Kyle Adler experienced first-hand the unprecedented upheaval this situation forced upon local artists. As artists, we're all having to find new ways to create and survive while sheltering-in-place. Face-to-face classes, photoshoots, rehearsals, and performances are canceled. The new normal is taking or teaching online classes in solitude from our homes. Much of artists' revenue has disappeared but the bills must still be paid. And nobody knows how long this situation will persist. Whether we dance, perform music, make theater, paint, sculpt, or photograph for our living and/or our passion, life is vastly different these days.
Kyle launched the Dance Like Nobody's Watching Project to allow SF Bay Area dancers a new means to continue creating while adhering to the region's stringent shelter-in-place orders. Via socially distanced photoshoots conducted with approximately 40 dancers within their shelter-in-place regimes, Kyle captured the vibrant diversity of the SF Bay Area's dance community with respect to dancer backgrounds, movement styles, and quarantine situations.
The artistic intent is twofold:
1) Document the innate persistent quality of the human creative spirit, even during difficult times.
2) Demonstrate that while we may be physically isolated right now, we still constitute a strong interconnected creative community.
Other project goals include:
1) Provide an artistic outlet for the photographer and several dozen dancers to make some lasting art while quarantined.
2) Engage viewers through presenting a portfolio of striking images of dancers creating during extraordinary times.
3) Generate revenue to be donated to local aid organizations helping the most vulnerable during the COVID-19 public health crisis.
Bio:
Kyle Adler is a professional photographer specializing in travel, performing arts, and culture, and based in the San Francisco Bay Area. His work is unified by a passion for capturing the unique, authentic spirit of a place and its people. Kyle is a recent winner of the prestigious international competition, Travel Photographer of the Year, and he was shortlisted for the 2016 National Geographic Travel Photography competition. As the Fashion and Beauty category winner of Digital Photo Pro Magazine's 2019 Emerging Pro competition, he also was awarded Third Prize in the contest overall. Kyle's work has been published in a variety of outlets internationally including National Geographic Online, Digital Photo Pro Magazine, The Telegraph, The Atlantic, and fine art and commercial photography venues. His images have been exhibited widely in the US and around the world.