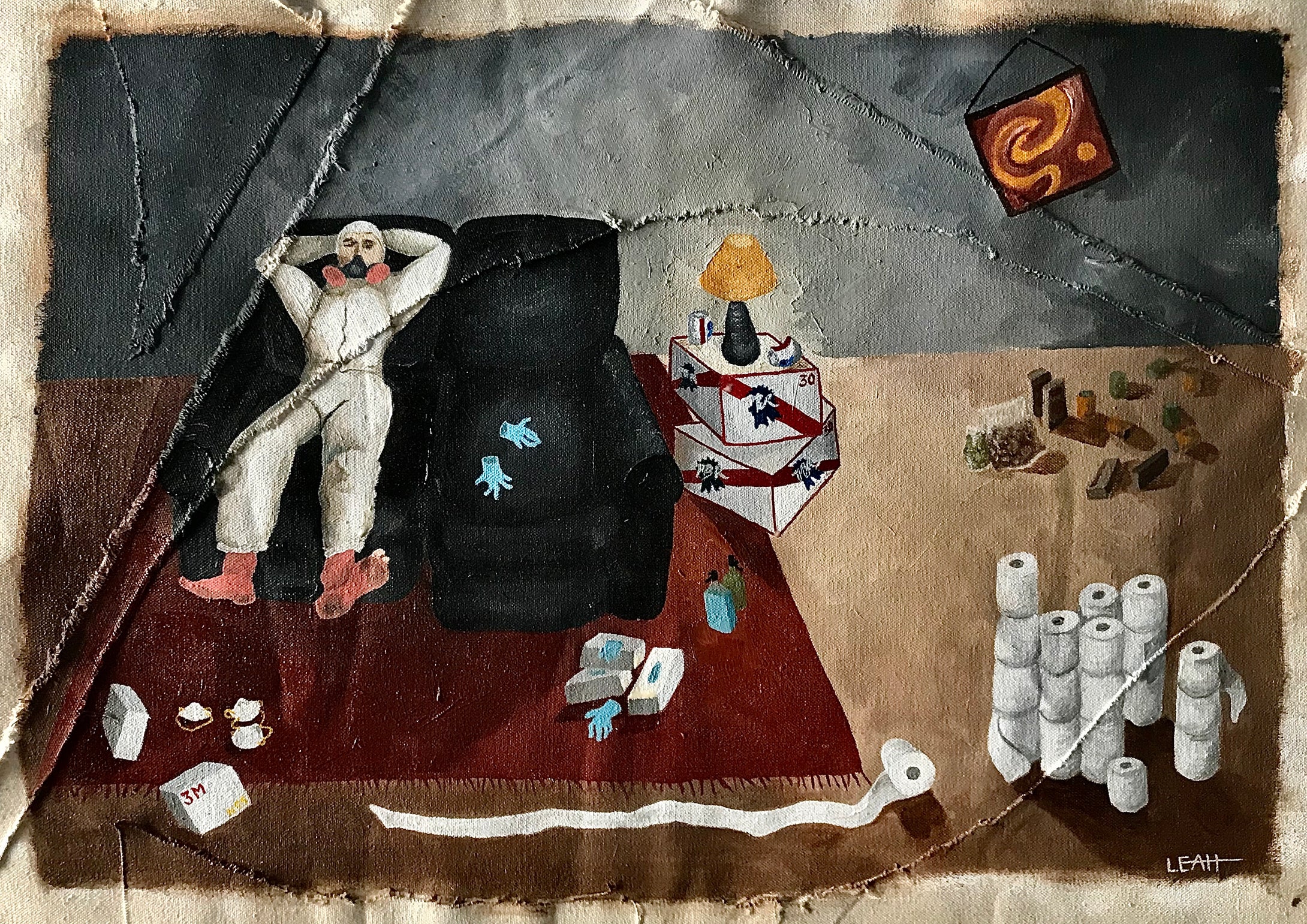 Thriving in Place: Annaleah Gregoire - Stock Up
Abrams Claghorn Shop
Regular price $1,100.00 Sale
30 x 20", Oil on Canvas
.
Artist Statement
My sculptures and paintings draw influence from looking at the remnants of
transformation – what is present yet invisible, what rots and how it transitions over time, and
what evokes a visceral reaction. My work has a powerful pull toward the strange. The strange
compels me to explore and expose people to ideas that might be uncomfortable. The piece
"Stock-Up" is a reflection on the hoarding mentality that surfaced during the first few weeks of
the shelter-in-place mandate. The painting addresses the discomfort and uncertainty of adjusting
to the extreme conditions of the pandemic. Shelves were emptied entirely in most grocery stores.
Those who were quick and could afford to stock up did so in mass quantities. Those who weren't
quick enough to get there or could not afford to stock up were out of luck. Material limitations
quickly became a serious consideration for my practice. I shifted suddenly from casting bronze
and playing with laser printers to working exclusively with the tools and materials in my small
apartment. This piece was created using scraps of recycled canvas from a previous painting
addressing COVID-19 as well as oil paint.
.
Artist Bio
Annaleah Gregoire is a painter and sculptor from Oakland, California who is currently
working towards her BFA remotely at California College of the Arts. Her work tackles concepts
relating to discomfort, trauma, and growth. She has a small business designing t-shirts, and her
work has been seen on Spotify, Apple Music, on magazine covers and websites. Gregoire has
received mentorship from Massachusetts based oil painter, Peter Ruhf. She is now developing a makeshift sculpture studio in her apartment, building collaborative virtual showcases, and trying
to navigate socially distanced exhibition opportunities. Gregoire is further investigating material
and pushing conceptual limitations in an effort to accommodate the shifting circumstances of the
pandemic.