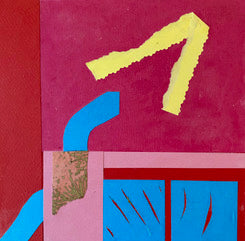 Fragments: Marking Time - Pam Fingado - Zing
Abrams Claghorn Shop
Regular price $220.00 Sale
Zing
9.25"x9.25", Paper Collage
Artist Statement

I started playing with small two inch cut squares and random scraps of recycled paper in 2020 during the Covid Pandemic.  I assembled these elements using  a monochromatic color scheme as one unifying factor and a square format as another. What emerged were patterns and designs that created order from disparate elements to complete a resonating whole.
Light is reflected and refracted with the fragments of contrasting colored shapes.  What is first seen as one geometric shape actually dissolves to reveal a multitude of smaller hidden pieces. Its as if the larger shape absorbs the smaller.
Random connections, absurd pieces of decorative and ordinary papers are just a few of the physical properties that add a whimsical and playful feeling to a static grid-like format.
The clearly defined parameters of this geometric form evolved as a template to contain the haphazard, unintentional selection of shapes and also to relieve the anxious feeling of no restraint over their placement.  I wanted to stay open to all the possibilities and yet have some structure to contain them.
These works and the process used to make them remind me of the feelings of no control and how to harness what I can to make something creative and meaningful during a very stressful Global Pandemic. 
"I live in California across the bay from San Francisco. I am inspired by the colors of the Pacific Ocean, the light and our wonderful moderate climate.  My childhood included growing up in an artistic family, so I was influenced by my father, an abstract expressionist painter, and my mother who had a 'good eye' for beautiful things.  Abstract art continues to fascinate me. It has proven to be the best way I can express my ideas and feelings.
I have taught art in elementary through high school choosing these ages with the hopes of giving the younger generation a solid foundation in art.  The years in which I taught art to children were significant because they instilled in me the importance of play and exploration. I learned the ability to make art when 'open to possibility' frees the imagination and heightens creativity.
My choice of medium and materials is directly related to those years working with children. Paper, mixed media, and collage provide infinite ways for discovering pattern, symbols and playing with the elements of design.
 Over the years, I have owned an art gallery, coached creativity for new and seasoned artists, and served on boards of numerous community nonprofits, museums and art centers. Lately, I've taken up writing to produce three books while working on two more.
I try to pass on what I've learned about creativity and my own artistic journey to others through mentoring, coaching and writing. In sharing my art, I've learned we all share similar fears and desires…that is, to be heard and seen. Art is one way
in which to do exactly that."
Pam Fingado
Pam Fingado is a native Californian born in San Francisco and living in the East Bay. Having studied at California School of Arts in Oakland she received her BA in Studio Practice in Printmaking and a California Teaching Credential from California State University East Bay. 
Her initial love of printmaking led to paper making and eventually paper cutting including the development and study of paper cutting techniques in traditional folk craft and contemporary art. Today, her mixed media pieces include work that combines paper cutting techniques, painting and craft.  Examples of these can be seen in the collage series, Squares, Icons and Saints, Imaginary Travel, Blue, and Paper Mandalas.