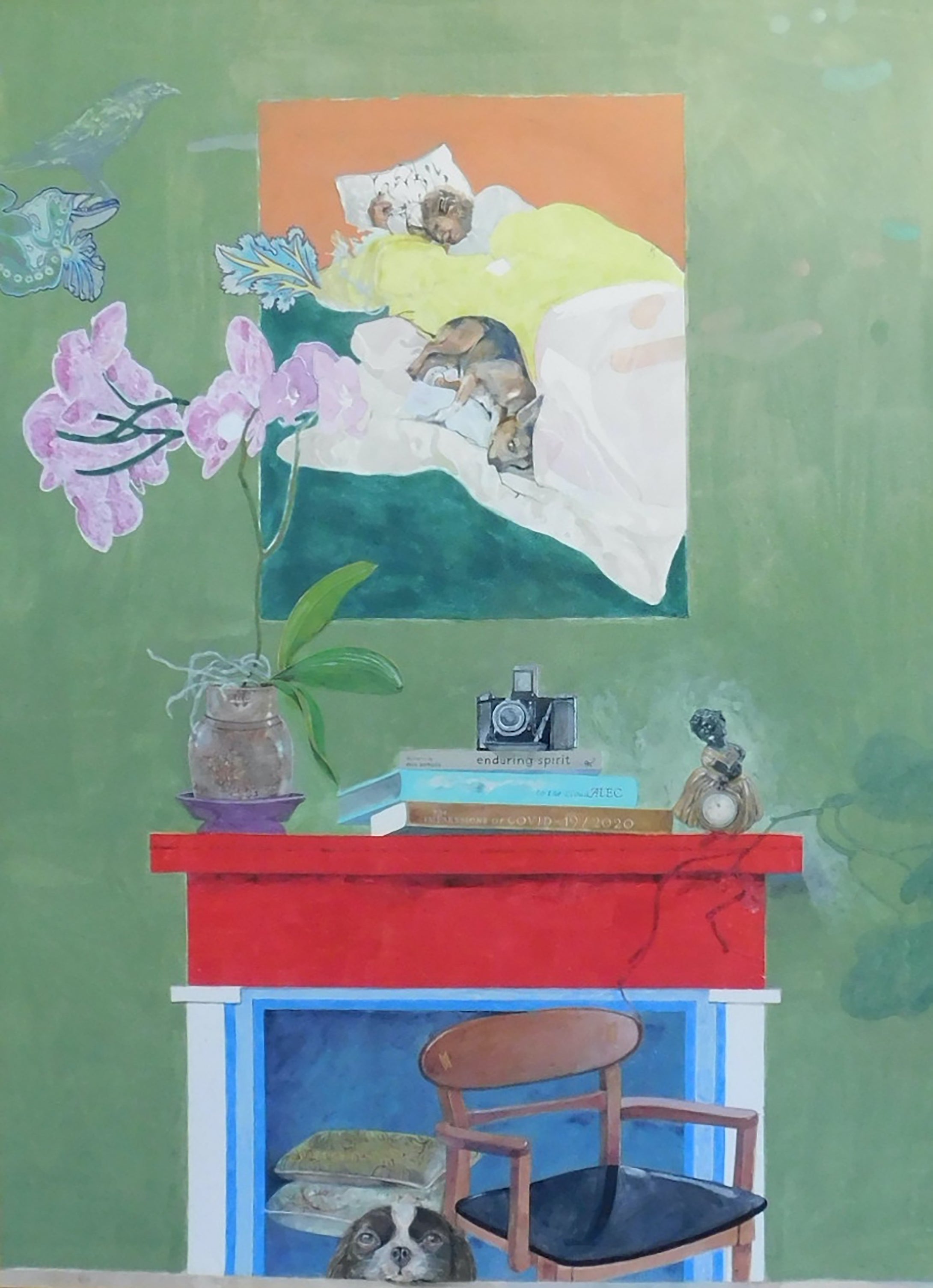 Fragments: Marking Time - Tomye Neal-Madison Never Have I Ever, Until Now
Abrams Claghorn Shop
Regular price $7,000.00 Sale
"Never Have I Ever, Until Now"
42x32", Gouache

Gaze gossamer wings
on a crow perched high emboldened like an expressive paisley
yet a spider's web in it's throat
thwarts warning sounds
of a cloudless orange veiled sky
like a hazy dream, a charlatan's trick
even the pet snuggles more closely and quietly alert is the other
viewing life's unordered complexity as theater of the absurd.

An enduring spirit like an Orchid shift changers blossoms
not from a rabbit hole
but truth pellets enriched soil.

Bug eyes like a bellows camera
to recognize what is derogatory who is Alec
what's with the clock
iCloud
the rich, red mantel
supported by white columns
all cleverly incredulously intrenched high resolution memes.

The chair and pillows suggests setting
comfort aside
go elevate something for others.
Tomye Neal-Madison  Bio
Tomye became the seventh Artist to join six other established women Artists who identify as a group called B'We. Previously, all the members lived in the El Cerrito / Richmond CA area. Ms. Neal-Madison primarily paints with Gouache, universal activities which brings smiles of remembrance from viewers. tomye4arts.com There is by Tomye, a recent need to replace nostalgic visuals with exhibiting experiences that cause grievous results against humanity and the environment. This is her direction of encouraging advocacy, to elevate any form of humanity, life. She, like many people considered a minority, has to more often exert her visual messages of positive change. With her change of subject, Tomye' illustrative approach to storytelling, does achieve a shift of notions and actions from those willing to share in enhancing community practices.