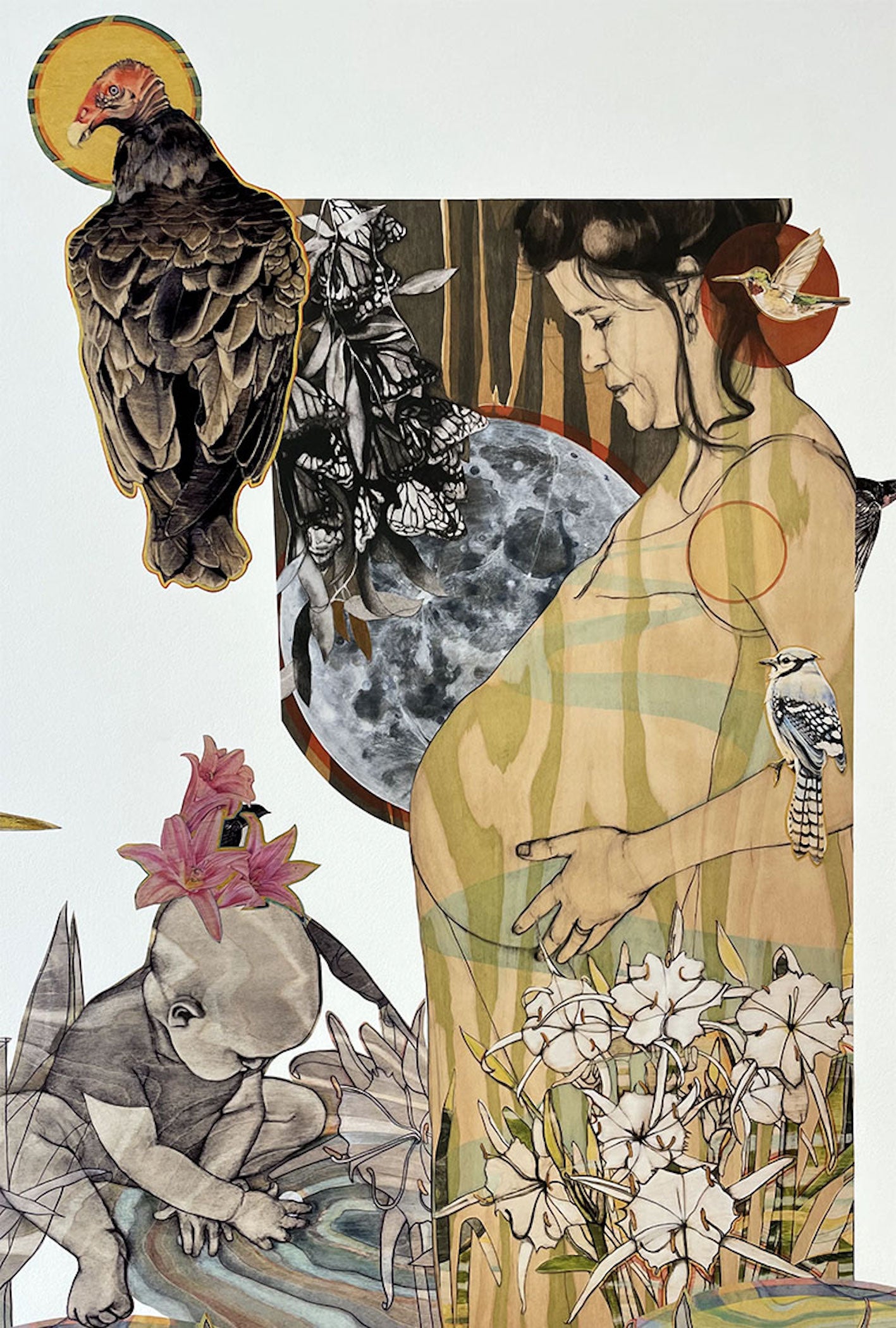 Devastating Loves & Transcendent Hatreds : Sheila Metcalf Tobin : Mother Daughter Vulture Moon  
Abrams Claghorn Shop
Regular price $325.00 Sale
Mother Daughter Vulture Moon
Wall decals 
54 x 36 inches, 2022
$325.00
A mother's love, perhaps the most intense of loves, has much to teach us about ourselves. Throughout the pandemic years, I found myself mothering in a heart-wrenching realm, caught between my mother aging with dementia and my teenage children both facing formidable mental health challenges. I instinctively set aside my artmaking practice to govern their respective care. I was lost to myself, removed from the way I process my emotions and experiences until returning to the sanctuary of my studio. There, I set out to create work commemorating my experiences of motherhood, both as a mother and as a child for the sole purpose of my own healing. Mother, Daughter Vulture Moon is an homage to an early childhood trauma of being physically and verbally punished by my mother for straying from home to explore a little creek, where I found red dirt clay to shape with my small hands, and the healing that took place when I stood with my own child, allowing them to play safely at the water's edge. I think I knew mothering would save me, but I had no known recognition of what would need to be broken to reveal a path toward loving myself.
Sheila Metcalf Tobin holds a BFA from the Maryland Institute College of Art and anMFA from the Art Institute of Chicago. Long before her formal education began, she fell
in love with drawing. Sheila believes the action and attention required in observation
based drawing cultivates a pathway for an intimate connection between the drawer
and the subject, a knowing akin to tenderly holding and touching. Today her artwork is
driven by the desire to portray the connections between ourselves and our environment.Her work captures unique characteristics of the land, its flora and fauna, and preserves
encounters through drawing. She also uses collage and wall installations to orchestrate
compositions that convey the complexity and beauty of humanity and the kinship we
share with our wild counterparts. Sheila's work has been exhibited nationally,
internationally and locally in the greater San Francisco Bay Area and is included in
many private collections.