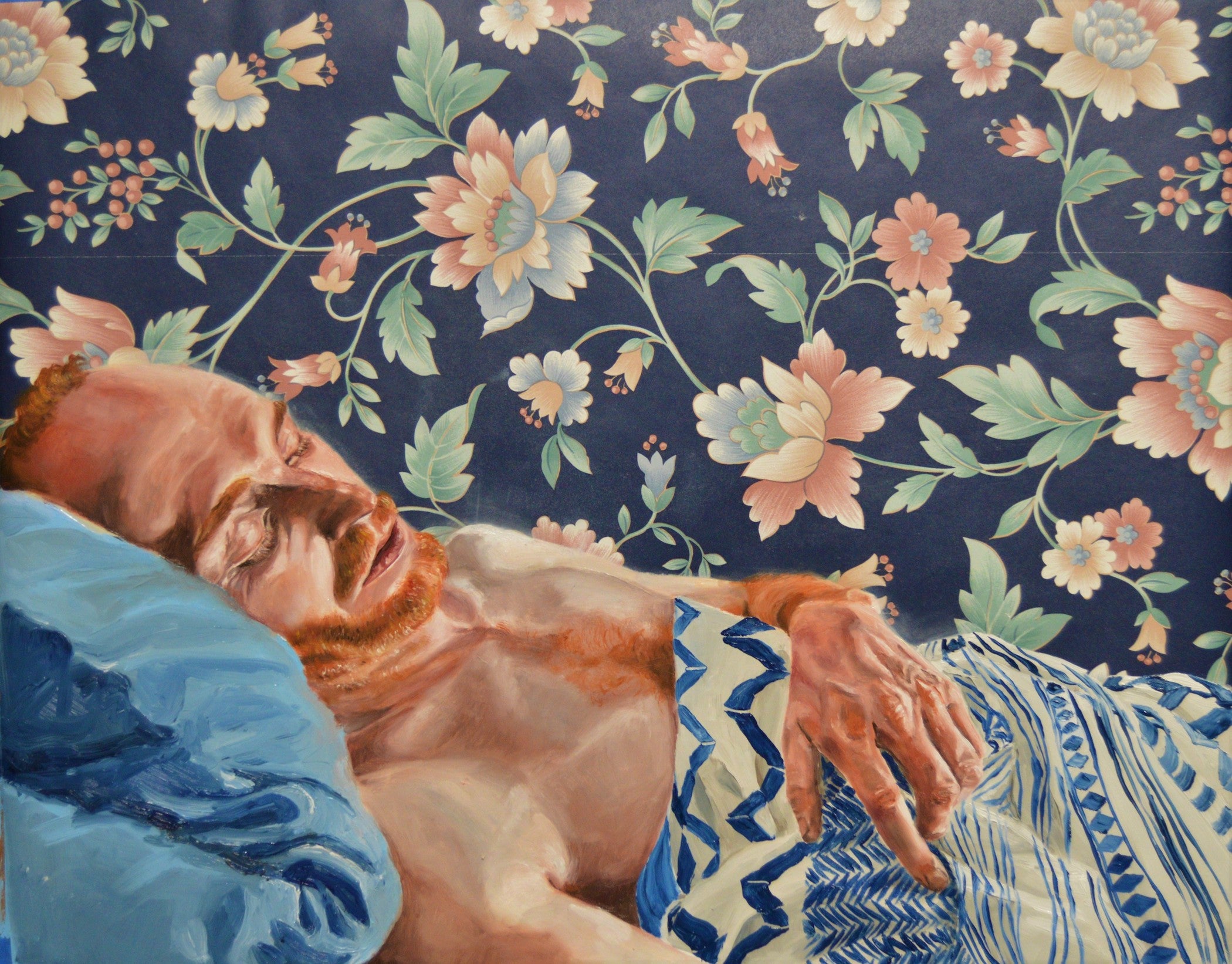 Devastating Loves & Transcendent Hatreds : Madelyn Covey : Sleepy Robbie
Abrams Claghorn Shop
Regular price $1,600.00 Sale
Sleepy Robbie
Oil on found wallpaper
19 x 25 inches, 2023
$1,600.00
My artwork largely focuses on people and how they perform aspects of their identities or inner selves. I have always loved painting portraits of my friends, community members, and pop culture obsessions, using housemates, folks dressed up at comic book conventions, celebrities, and screencaps of TV shows as subject matter. I find that meditating on their features and body language is a way for me to feel connected to them, and in that way more connected to the world.  
After ending my relationship of 13 years, I felt angry and resentful for all the time that I spent trying to connect and build a life with someone who was ultimately unable to meet me. I felt foolish and flagellated myself for using up so much of my life. As I did this portrait of my ex partner, my heart softened and I remembered all of his good, sweet qualities. This helped me forgive myself for trying so hard to make it work for so long. I mostly paint on wallpaper, and my former partner's mother thoughtfully gave me this wallpaper when she redid her bathroom.
Madelyn Covey is a Richmond, CA, based artist working primarily in painting and drawing. She was born in Sacramento, CA, and has been a San Francisco East Bay resident since 2005. She received her MFA in Fine Arts from Mills College in 2012 and her BA from UC Berkeley in 2008. She currently facilitates painting and drawing at Creative Growth Art Center in Oakland, as well as its Saturday Youth Program.