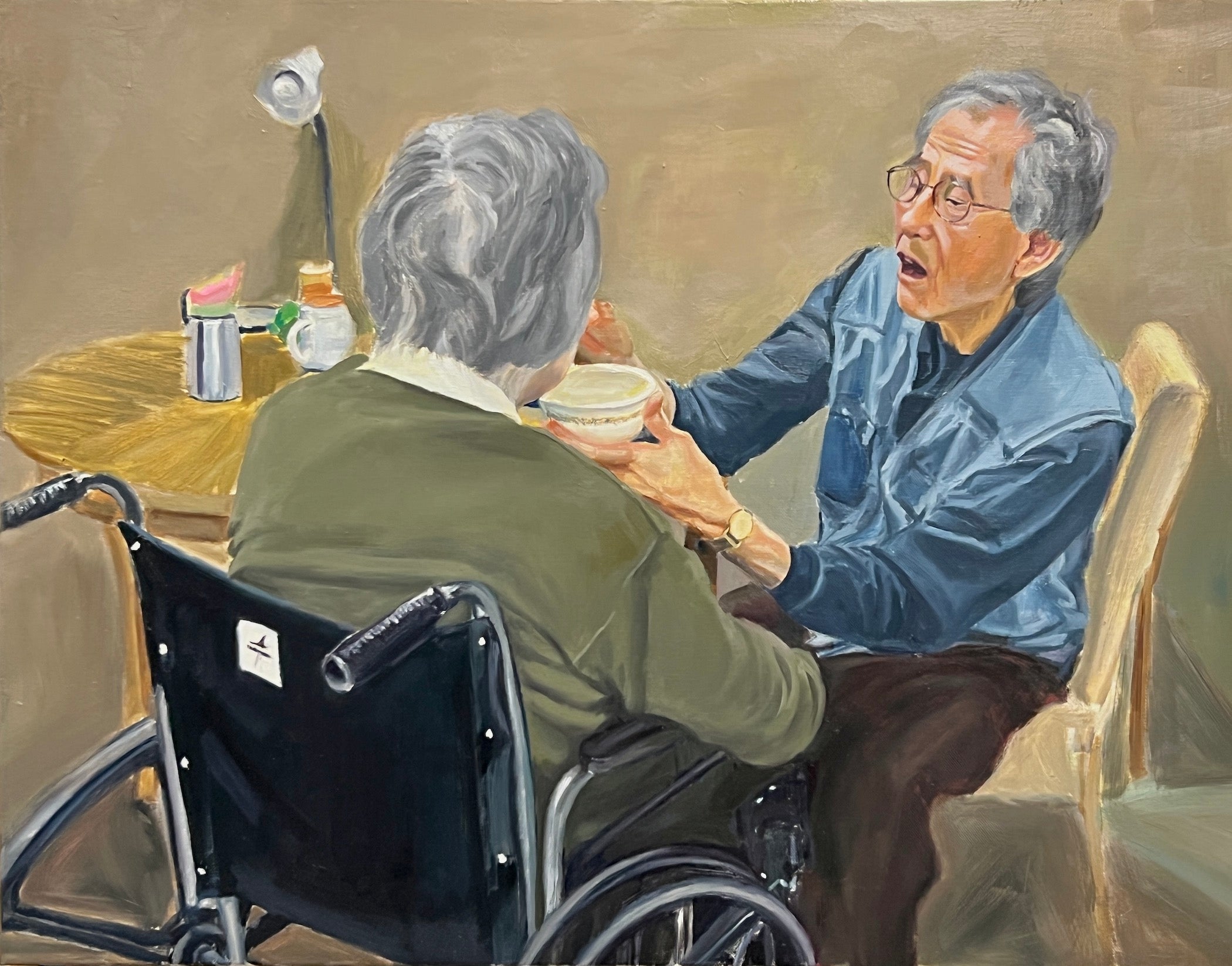 Devastating Loves & Transcendent Hatreds : Siana Smith : Love
Abrams Claghorn Shop
Regular price $1,200.00 Sale
Love
Oil on canvas
22 x 28 inches, 2023
$1,200.00
Love portrays a warm and tender moment of devotion and connection. An elderly man with a half-opened mouth is poised to feed his ailing wife, who sits in a wheelchair. His wrinkled hands and weathered face tell a story of lifetime together, filled with shared joy and sorrows. 
This painting is about a raw, unguarded expression of love—a love that has weathered the test of time, illness, and challenges. I recently changed the palette to be more muted, evoking a sense of quietness, allowing the focus on the man's face, hands, and the couple's intimate exchange.
This painting invites viewers to contemplate the beauty of love's unwavering commitment, the depth of empathy, and the resilience of human relationships. It celebrates the extraordinary within the ordinary, reminding us of the quiet and profound gestures of love that connect souls and define our existence.

An immigrant who came to the United States in the early 1990s, Siana Smith found her calling in art after being an engineer and raising a family. She has painted commodities ranging from fashion accessories to used tissues. She uses vivid colors, larger-than-life scale, and fine details to emphasize subjects and subject matter. Her figurative works catch fleeting moments in life, fostering engaging dialogues on issues in a social and psychological context.
Siana earned her MFA in fine art painting from California College of the Arts, San Francisco. Her paintings have been shown nationally, including at The DeYoung Museum of San Francisco, the New York Academy of Art, the Triton Museum of Santa Clara, CA, Southern Arkansas University, the Haggin Museum in Stockton, CA, and various galleries. Siana has a passion for public art and community service, and she has painted murals in the San Francisco Bay Area.