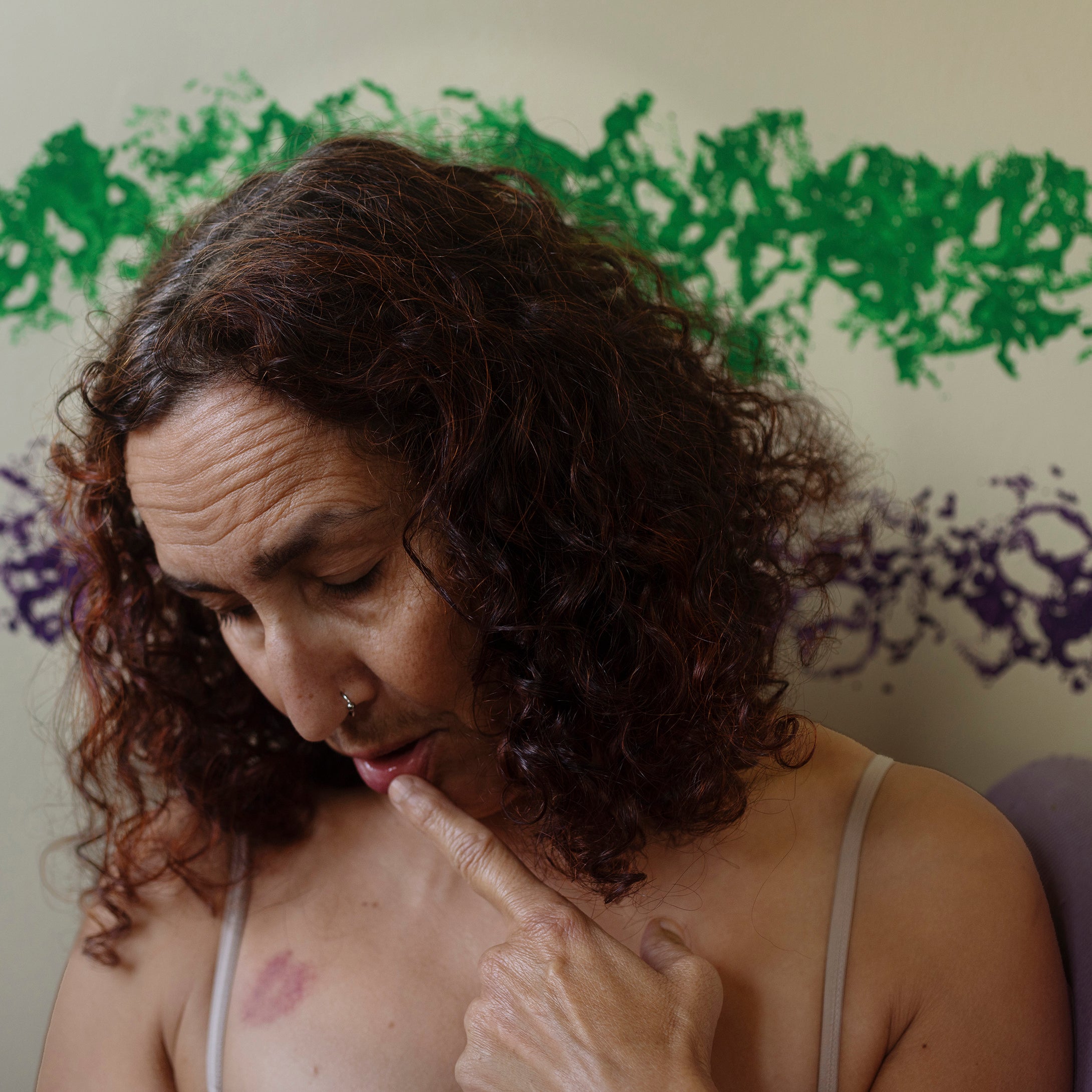 Devastating Loves & Transcendent Hatreds : Beth Zuckerman : Devastating Kiss
Abrams Claghorn Shop
Regular price $250.00 Sale
Devastating Kiss
Digital photography
18 x 18 inches, 2023
$250.00
I describe myself as an artist, a high-energy creature of passion, and the work exhibited in this show exemplifies this more than perhaps any other work I have made. Devastating Loves and Transcendent Hatreds brought to mind conflicting feelings of desire and fear, and the ways these emotional conflicts are compelling.
I turned to self-portraiture only recently, during the boredom and isolation of the early pandemic. My self portraits, both abstract and representative, were more readily accepted for exhibition than the landscape photography I had produced for decades in the past. In my self-portraiture, I seek to portray the evolving beauty of an aging woman, and to show femininity from a position of strength rather than weakness. The emotional conflicts depicted in this work display some of the paradoxes of desire, and the power inherent in surrender.
Beth Zuckerman spent 30 years creating documentary-style color landscape photos of her travels and hikes. She reinvented her art when the pandemic limited travel, turning to the intimacy of self-portraiture, and exploring feminist themes. The pandemic freed Beth from a transbay commute, providing her with the time to pursue an AA in Art Photography from Cabrillo College, Aptos. She expects to graduate in December. 
Beth has returned to travel, now making landscape photos with a greater sense of artistry. Her photography education taught her to be unafraid to use her own voice. She also continues to explore feminist themes through self-portraiture. She upends the ways that older women are portrayed in photography, showing herself without retouching her aging skin. As she approaches graduation, she continues to seek a unifying theme in her art. 
Beth lives in Berkeley, CA, and works as a legal assistant at a San Francisco law firm.