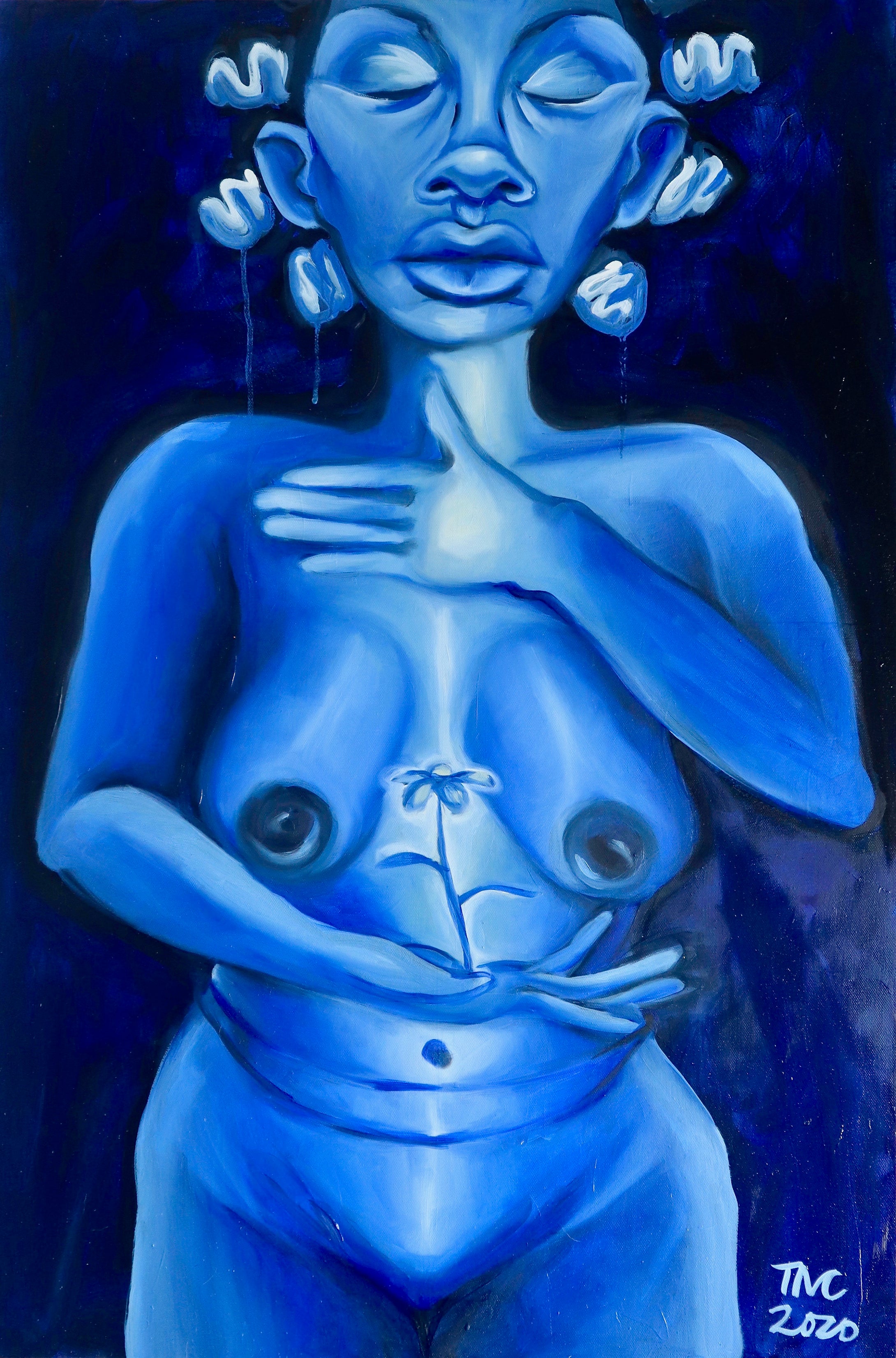 Thriving in Place: Tiffany Conway - Peace is Resistance
Abrams Claghorn Shop
Regular price $1,800.00 Sale
 36 x 24", Oil on Canvas 
Tiffany's visual paintings are the break of generational curses and the door to beautiful beginnings. Tiffany overcame stereotypes and an absent mother due to addiction and began speaking life to herself first. Raised in the Bay Area, California by her father and stepmother, Tiffany grew her creativity from life experiences.  Like many young women of color, Tiffany struggled in channeling her emotions and creativity with life happenings. 
Her college career studying at the Academy of Art University in San Francisco and the Peralta Colleges of Alameda County came to a halt due to life happenings outside of her control. A set back birthed a purpose that changed the trajectory of Tiffany's life for the better.  Seeing the beauty and struggle of the human experience was the driving force behind a new declaration, to see and make visual the beauty and struggle of her experiences.  

Using her life's adversity  as a creative mechanism, Tiffany cultivated Project Get Free the Coloring Book for Navigating the Diaspora in 2016. This coloring book was a response to song lyrics transformed into a "visual journal" of emotions that could only be disposed of visually. This was the beginning of a journey of restoration, finding her voice and purpose.  These visual "conversations with self" birthed a motivation to showcase her art in several exhibitions including "Right Here, Right Now Richmond" and the "Art of the African Diaspora". 
The textures found in her pieces represent the skin and the scars of life coupling color as language. Even though her work displays the beauty of others, what lies behind that initial layer are parts of her personal story of evolution. Her mission is to heal women through her paintings by displaying them as seen, heard, soft and resilient.
Recently, Tiffany Conway won and Artistic Achievement Award for the 2020 exhibition entitled, "The Art of the African Diaspora" displayed at The Richmond Art Center in Richmond California. Tiffany Conway continues to visually stimulate conversations and awakenings through her work.
ARTIST STATEMENT
TIFFANY CONWAY
Art has provided me with the tools to communicate in a way that was not able to do before. And for that, I am forever grateful for the practice. Art allows me to retreat, restore, and express all that I have learned from moving through the world as an African American woman. Art connects me to the energy that lives within myself that I'm not always able to see. 
 I focus a lot on the transmutation to grief and beauty. And creating a dialog with myself through painting. I have an interest in skin tone and all that we carry underneath the top layer, which is why my art is so textural. I have an interest in using color as a language for emotions and perspectives and the body as a vehicle. Even though my work displays the beauty of others, what lies behind that initial layer are parts of my personal evolution.
I believe that it is important to unmask the myth of what strong should be. My overall vision is to create art that empowers vulnerability, as I believe that this is the ultimate superpower. When creating, I try to portray "softness" through my technique with skin tone in the attempt to portray my community, with humanity. When looking at my work I would like my audience to also see themselves with beauty, without hard lines, multidimensional, and navigating the world from the inside out.