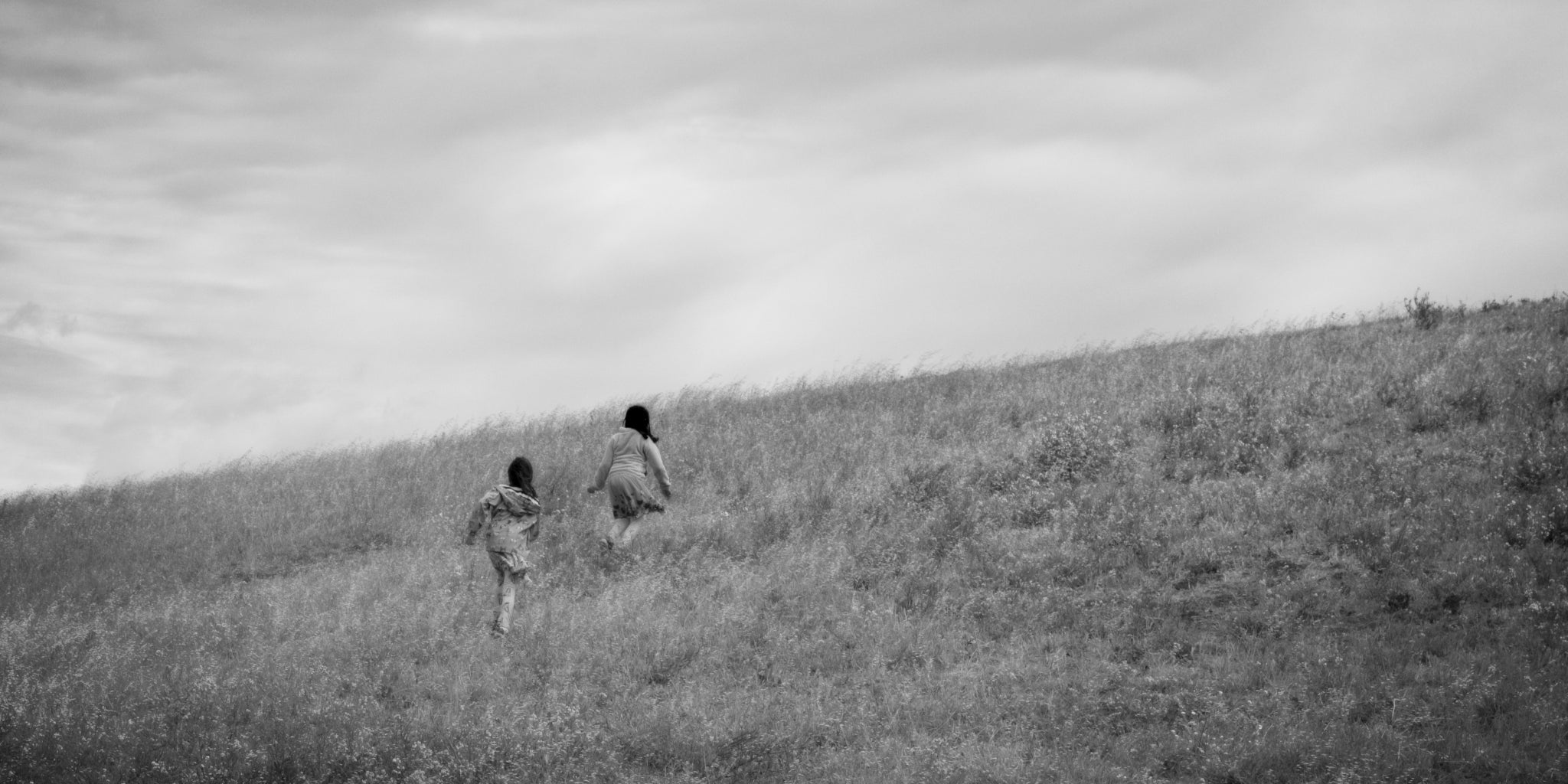 Thriving in Place: DeAnna Tibbs - Quaranteam Dream
Abrams Claghorn Shop
Regular price $300.00 Sale
DeAnna Tibbs is a photographer and writer living in Oakland, California. In her spare time, she covets paper maps and suffers from altitude sickness. More of her photos can be seen @deannadtibbs on Instagram.
10 x 20", digital print
Artist  Statement
Quaranteam Dream began with a digital photograph taken in June at Berkeley's César Chávez Park. In the image, my daughter and her friend deliberately trudge up a hill covered with wind-blown grasses toward a skyline of somber clouds. Although I took a number of photographs at this location, this one stands out to me because of the composition and the figures' perfect symmetry. The image has dark and dreamlike qualities, which I emphasized by opting for black and white, darkening the sky, adding a haze to the grasses, and printing on metal.
This piece speaks to the theme of resilience. Shelter-at-home has meant practicing my crafts of photography and writing with a completely different lifestyle. While my photography will more usually focus on a natural landscape, this image centers on my family, as does my current life. As time marches on and we remain in quarantine, our traditions and routines are altered by Covid-19, changing the color of life itself. We feel as though we are living in a fog or trance, a dreary one at that. But, we find moments of beauty and synchronicity. The outdoors has been a place of escape from the monotony of our days, where we might find adventure, interaction, and exhilaration. Children have been disproportionately impacted by the situation, cut off from schools and activities. But children are natural hill climbers in the face of a cloudy day; they grow and develop no matter what. Families are finding new ways to connect. We are lonely, but we are together. We're doing our best with what we have.
(pronouns she/her)

Photographer & Writer