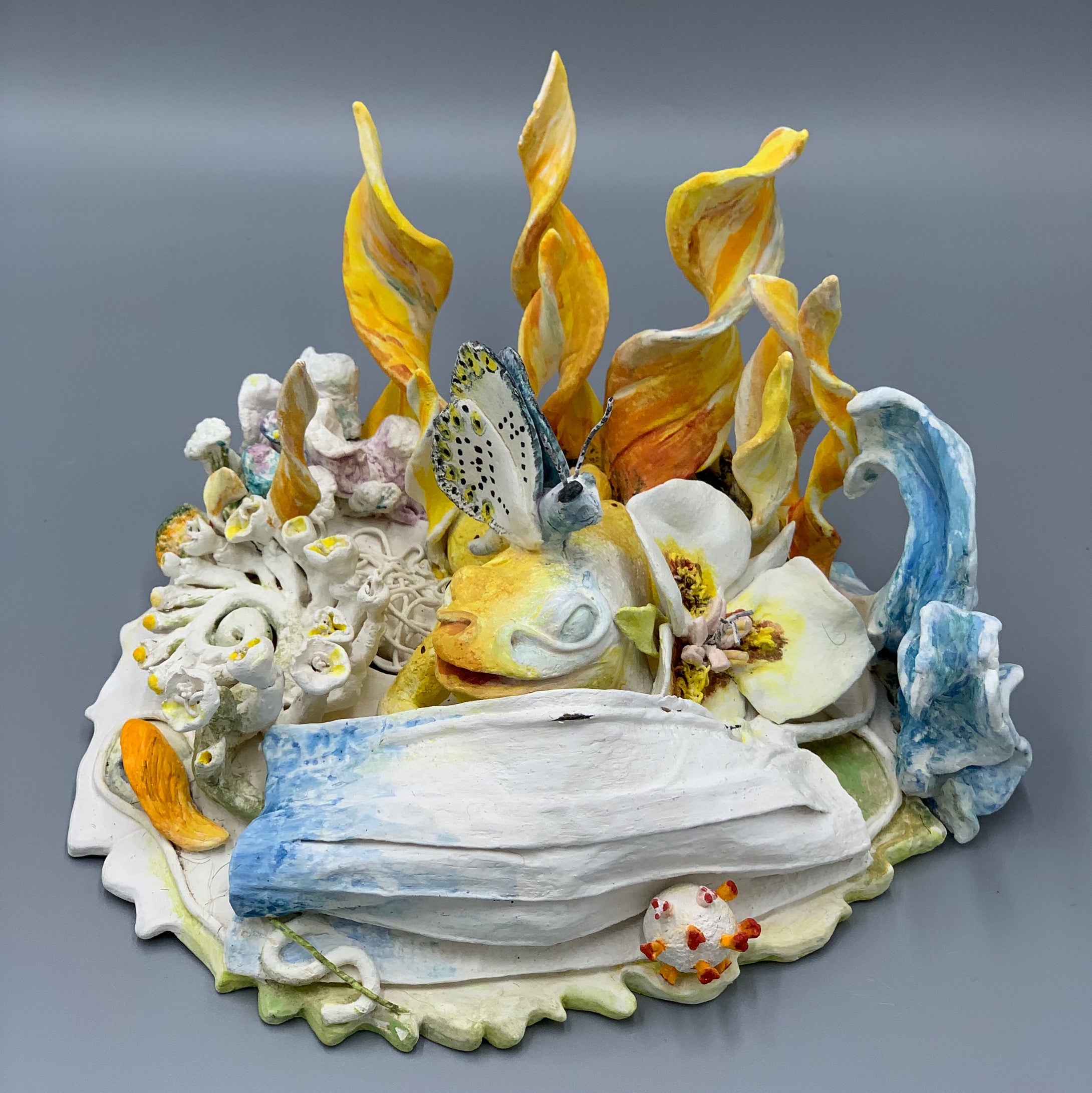 Re-Imagining Our Footprint: Vicki Gunter - Folktales 2020
Vicki Gunter
Regular price $500.00 Sale
Folktales 2020 
clay, nichrome wire, underglaze 
6.5 X 9 X 10" 
My art draws from the knowledge that everything…us, our food, homes, clothes, tools, toys all come from the 'clay' of the earth. My hope is, that we will seek just, nature-based solutions to grow, gather & consume leaving the smallest fingerprint.
Our American folktale in 2020: Covid, fire, flood, trump, BLM, endangered coral, frogs, flowers, butterflies, us. They are all in there.
How can we deliver a message about climate change and be more thoughtful about the materials we use? Even though clay is one of the most plentiful things on earth, 

I recycle my clay. 
I also find bags of abandoned dried clay and reconstitute it. I do not use glazes that are toxic to the environment or me. 
I fire at mid to low temperatures and time my firings at times when demands on the power grid are at their lowest. 
Although I miss gas kilns and the unique effects obtained by them, I only fire with an electric kiln. All the metal in my work is found. I personally prefer it when artists avoid commenting on environmentally toxic things like plastic and use plastic to convey the problem.

Someday it will still end up in the environment again. Better to focus on how to collect and decompose or restore toxic materials to their natural state.
How can we be more responsible as individuals and as a society?
Use the positive outcomes of Covid as an example. Do not Travel unless necessary. Try not to buy things packaged in plastic. Do not buy things that are made of plastic. Do not buy clothing new unless it is sustainably made with organic natural fabrics and natural dyes. Buy used clothes. Eat organic. Fix things when they break instead of throwing them away. Make things yourself or if possible hire someone else to make it. Do not use pesticides. Talk to everyone you know and suggest that we need to work towards a new non capitalist system that is not based on profit but the rights of all people and all other lif
How can we as a society, and as artists, improve our environmental impact?
How do you envision our future environmental footprint?
 As in nature,  I see the goal as a zero waste civilization. 
What materials can we use to make environmentally safe and sound art? 
Found metal scraps & objects for sculpture. Natural fabrics & yarns like cotton, wool, silk. Food stuffs.