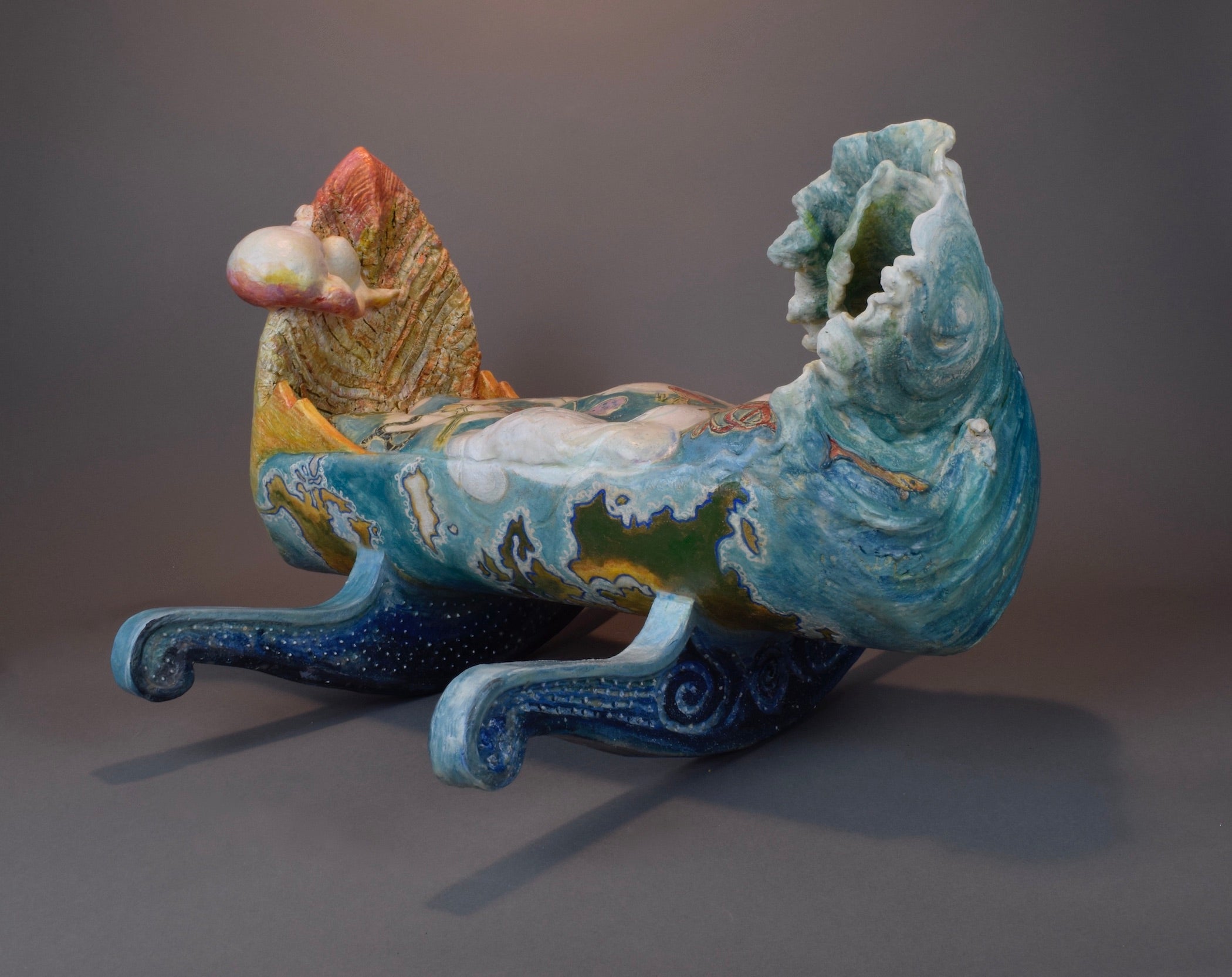 Devastating Loves & Transcendent Hatreds : Vicki Gunter : Let The Earth Cradle You
Abrams Claghorn Shop
Regular price $3,200.00 Sale
Let the Earth Cradle You - New Era Series
Recycled clay, underglaze, stains, beeswax 
15.5 x 21 x 20 inches, 2021
$3,200.00

Our yoga teacher, Lilia, said, "Let the earth cradle you." I loved the peace it gave me. I
imagined this sculpture. Time passed. Then we were hit by the pandemic, climate crisis, unemployment, evictions, our people dying and being divided. The murder of George Floyd highlighted the tyranny of it all. The one thing many could do was hike in nature and let the earth cradle us. This was the one piece I felt I could create for everyone, everywhere. I hope it helps transcend our hatreds and the devastation of loves lost. 

All Cradled: Ocean depths/stratified
Mountains/stratosphere/fox/butterfly/octopus/amoeba/turtle/Seastar/anemone/
fish/Redwood/Dogwood/gull/snail/bee/water/air/rock/us. All the continents are
represented in true proportions.

Clay has a memory. It records your fingerprints and all the ways you held it in your
hands. Our earth has memory and responds to our manipulations. My work in clay
draws from the knowledge that everything… us, our food, home, clothes, tools, toys all
come from the clay and cradle of the earth. My hope—we will seek solutions in nature-
based knowledge to grow, gather, love, consume—with justice for all, leaving the
smallest fingerprint. 

Vicki Gunter's earliest clay influence was her teacher, funk-artist Clayton Bailey in 1968. Her eyes were opened to sculptures of belching clams and peeing dogs. Then, at San Francisco State (1968-69) she was swept up into anti-war, ecology and civil-rights
movements, joining the five month strike for the first Black Studies Department in the
country.  Vicki's first 45 years as an artist were as a professional dancer. Gentrified out of dance, ceramics resurfaced! At 60, she began a ceramic artist focus. Her first submission won the People's Choice Award at Santa Cruz Museum. Her work is inspired by nature's no-waste complexity in wild places and at her East Oakland home-studio. Vicki's work has been exhibited throughout the west and nationally. She has received many awards, and is in several private collections. Averaging seven shows a year, the Yosemite Museum, Abrams Claghorn Gallery, Epperson, Crocker Museum, Blue Line, Bedford, Transmission SF, The ArteryCCC and Tennessee U are a few of the 36 galleries that have exhibited her work.