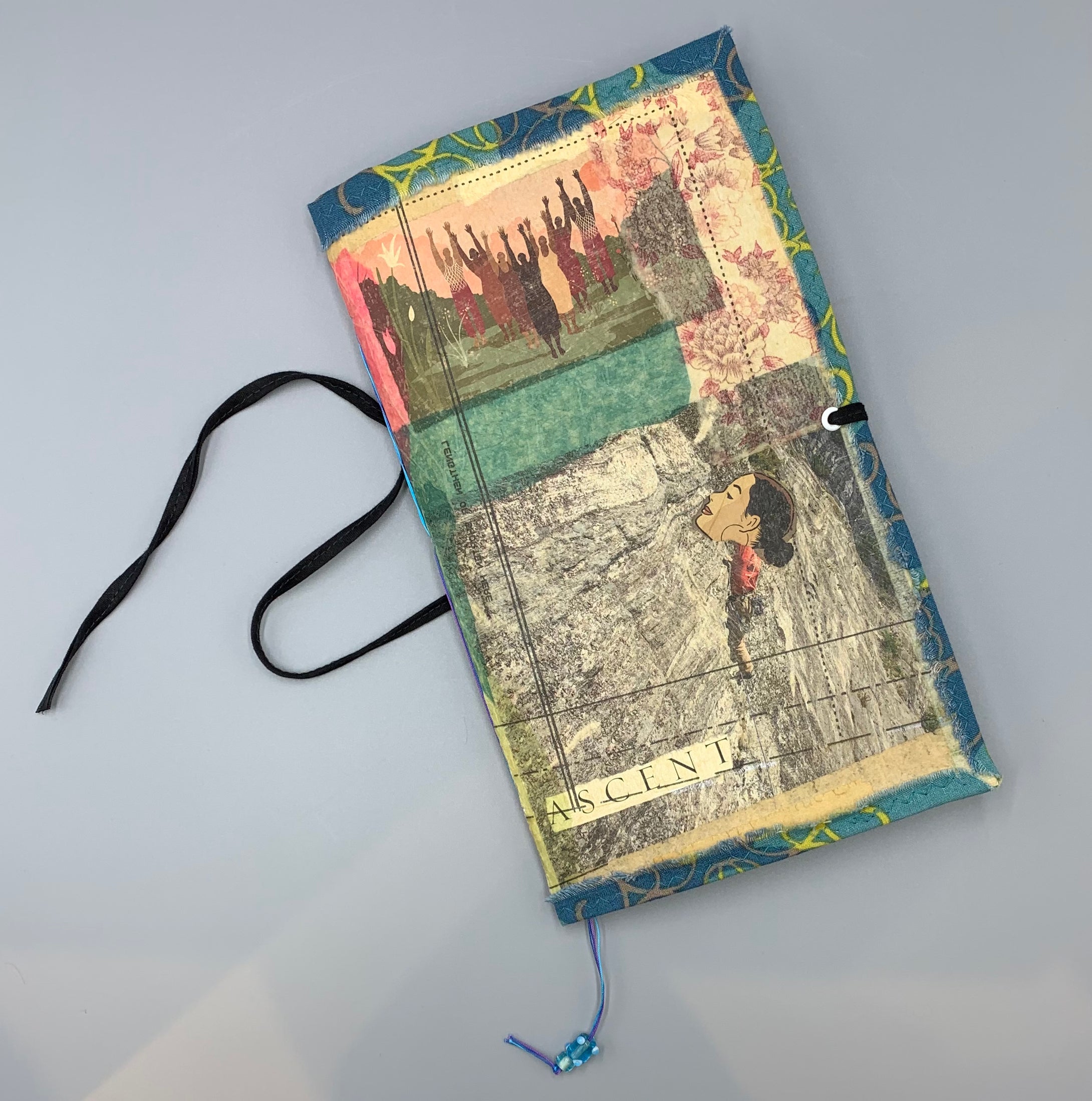 Trudi Boskin - Ascent
Trudi Boskin
Regular price $60.00 Sale
Approx.10.5" x 6.5" x .25", paper
About This Journal 
This journal is meant to be explored, written and doodled in……..a place to document events or tuck away little mementos and photos. Use it as a starting point for self expression.
No two journals are alike. Look through each one to find pockets and hideaway spots.
Coffee has been used for staining some pages, you may detect an aroma.
I hope that you will enjoy using your journal as much as I enjoyed making it for you.
I have found that art journaling can be extremely helpful in sorting out troubles. Art journals can be safe, sacred, and secret places to store and work out our inner thoughts. Or, they can be easy-breezy and fun books to document ordinary, joyful or poignant events. Perhaps they will be shared with friends/family. Perhaps they will be completely private. Some of my designs have a theme, either contextual or decorative. Some are more random and open-ended. All are fairly whimsical. 
I use reclaimed as well as new materials for my books. My quest for patterns and texture has helped me to develop a sensitive eye to find beauty and function in the world around me, both my small intimate world and the greater environment. Further, finding beauty in the random has helped me to free up my own sense of arrangement and placement and to toss off certain aspects of conventional craft.

Materials used in these journals include;

used books, magazines, greeting cards, envelopes, food packaging, playing cards, maps, gift wrap and ribbon, fabric, fallen leaves, paper bags.
I currently make dyes and stains with coffee, and the skins of avocado, onion and pomegranate.

My challenges for the future, with regard to my own footprint are;  to learn more about and use environmentally-friendly and sustainable adhesives, to purchase even fewer supplies, and to discover even more beauty and function in everyday objects.

Questions to ask ourselves……When I throw something out, where does it go? How long will it stay there? Can I use this obsolete object for something else? Can I use it until it disintegrates? Do I need a new thing? Where did it come from, how was it made, who made it and what is it made from?

Troubling at times but important to think about.
-Trudi