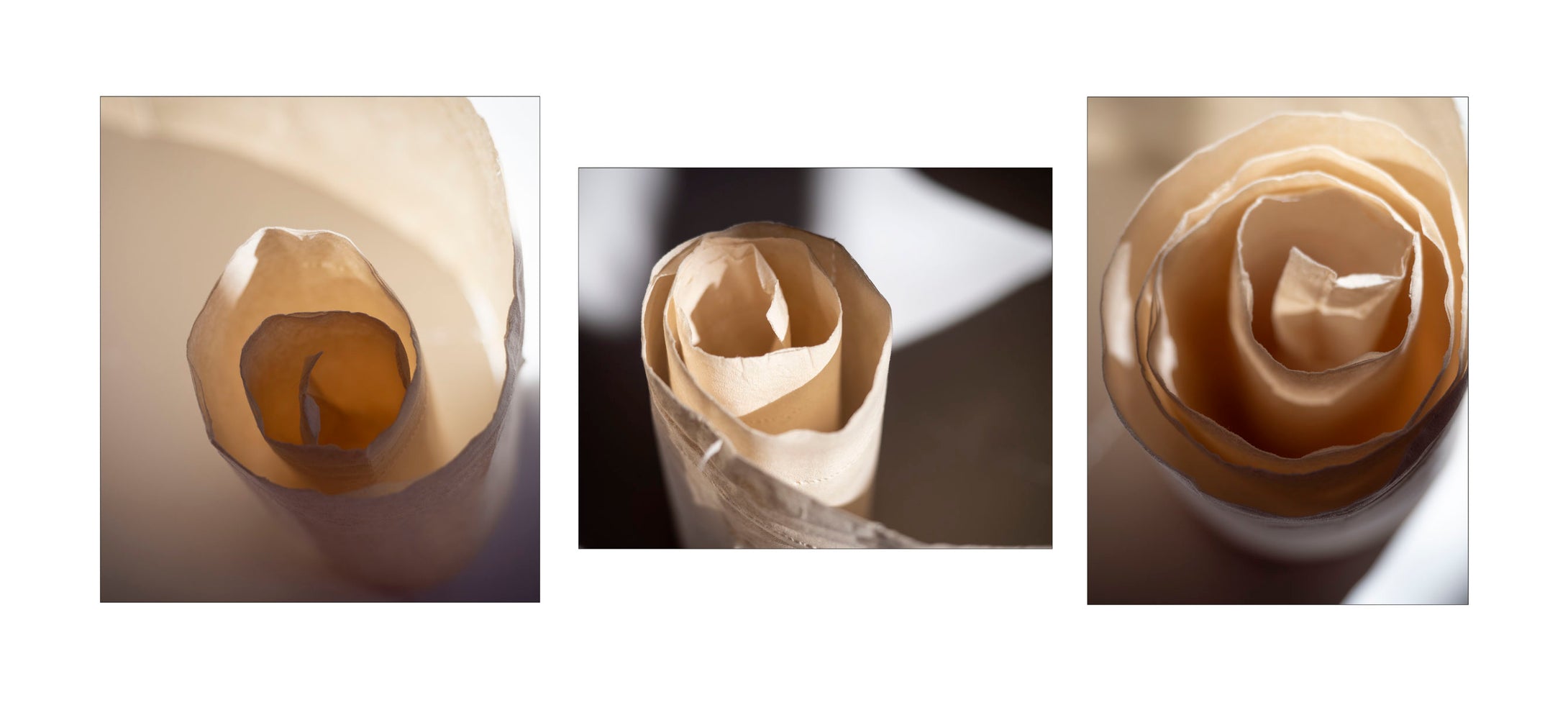 Thriving in Place: Petra Liljestrand - The Subtle and Sudden Beauty of TP
Abrams Claghorn Shop
Regular price $200.00 Sale
 11 x 23.5", Digital Print
"The Sudden and Subtle Beauty of Toilet Paper" is part of a series o
f
 photographing paper.
I think of it
 as a response to the
public
anxiety about the supply of toilet paper
.
 I initially thought this was an idiosyncratic American response but have since realized that it was not. Shooting these images during the Pandemic was a soothing process for me. Th
is
 particular roll of TP was made of bamboo, and came in its own cellophane wrapping paper, all the way from China. It just showed up on my doorstep one morning - an anonymous gift from a neighbor
- on
the day that I had planned to start with the paper images.
This
 was no ordinary TP - it had a soft creme colour, and a delicately patterned border. The light was wonderful that morning, and the TP called to me. I was happy focusing on "creating something out of nothing" (quoting Becky Jaffe). For a few hours during the pandemic, everything was calm and perfect. 
Artist Bio
The
 women
in my family have always 
'documented' the family life through photography - my maternal grandmother did so throughout the early 20th century. She added witty commentary through comic strips
adjacent
to the photos in the many
albums
she created for her daughters. My mother
continued with the family photo albums
 (sans witty comments), and made sure each of her children had at least
three 
childhood albums. I
continued the tradition
. Not surprisingly, all of our photographs captured the happy, rather than the difficult, side of family life
.
For years I yearned to
do something more with
 my photography
. 
When
 I got a digital camera
it stimulated my imagination, and as I had more time available, 
I began embracing photography as an artform.
This was the start of an exciting time of important growth for me. As a sociologist by training, using a lot of my right brain, it has been a wonderful journey so far.
My photos have been exhibited in student exhibits in the Bay Area, and in juried exhibitions in PhotoPlace gallery (VT), South Eastern Center for Photography (SC), PH21 Gallery (Budapest), as well as featured in Shots magazine.