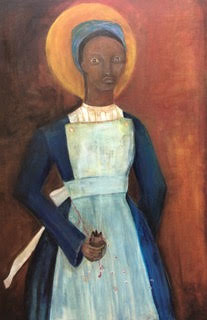 Thriving in Place: Kweli W. Kitwana - Saint of Divined Resistance and Protection
Abrams Claghorn Shop
Regular price $2,500.00 Sale
36 x 24", acrylic on canvas
Saint of Divined Resistance and Protection
The Africans shipped across the Atlantic Ocean to the Americas were taken away from their traditional culture and sold to support European "ways." As a form of resistance, the Africans secretly kept parts of their traditional culture alive and adapted it to their limited circumstances. The enslaved Africans of different ethnic groups and cultural traditions could work mutually to create new ceremonies, a mix of all their beliefs. It was these beliefs that served to maintain hope and protection. These rituals were to honor and call up ancestors' spirits, cast healing spells, protect against harm, and divine the future. In such ceremonies, materials with symbolic meaning would be put together in a bundle. Thus, the objects became charmed, charged with the power to produce fortune (or misfortune) or heal certain kinds of conditions.
African American Ancestors Are Honorable "Saints"
Because, it's true—my African-American ancestors are honorable "Saints," deserving of their rightful and unapologetic place in the canon of resistance and perseverance.

Black lives started in America as enslaved people with no intent to ever be freed, let alone exist, beyond the enslavers' enriching. My ancestors were stolen, and no one even considered a future for them. No one. How is it then, I wonder, being stolen and enslaved, that my ancestors were able to dream about possibilities? During these times, I ask myself, how is it that I am even here?
The answer lies in my own rendition of who is a "Saint"—someone who once lived an extraordinary life, and whose guidance is still called upon.
I am asking the viewer to pause for a moment. Look into these painted faces and imagine a Black person (not a person who is enslaved), who found ways of nurturing his or her hopes, love, grace, and spirits. A person who formed bonds with one another and created observances, beliefs, and rituals -all of which contributed to the foundation for one of the country's most significant racial justice movements.
While my work often stimulates profound resonations among African Americans, new awakening of anti-Black justice has encouraged others to rethink and confront their distortion of historical events, too. Others are starting to take another look at America's responsibility for the injustices against Black lives.
My art is an exercise of reflections. It's a perpetual healing journey of expressing my frustration with social and racial injustice. It is a gift, my voice, which my ancestors have given me. I was inspired to create these paintings as I reflected on the resilience of my African-Americans' ancestors and the recent Black Lives Matter movement. This recent movement is an uprising that forces ALL OF US to examine the vulnerability of Black humans. People asking for no more than to be left alone as we navigate the same freedom or pursuit of happiness other humans are afforded.
African-American Ancestors Are Honorable "Saints" and deserve our rightful and unapologetic place in the Black people's resistance journey and in the making of America.
These paintings are a part of a growing series in-progress.
Artist Bio 
Kweli holds an Associate of Studio Arts Degree.
Associate of Studio Art, School of Art + Design at Montgomery College, Maryland. She serves as a Teaching Artist with the Museum of Children's Art in Oakland, and Youth Spirit Artworks in Berkeley. Her preferred media include fiber art, surface design, and mixed media. As a "green artist," most of her work is created using found or upcycled canvas and materials. Kweli is also the owner of Movement Insight, LLC, consulting firm which provides strategic planning and leadership development for community organizations and activist. She is a nationally-recognized professional activist and social justice facilitator and trainer.