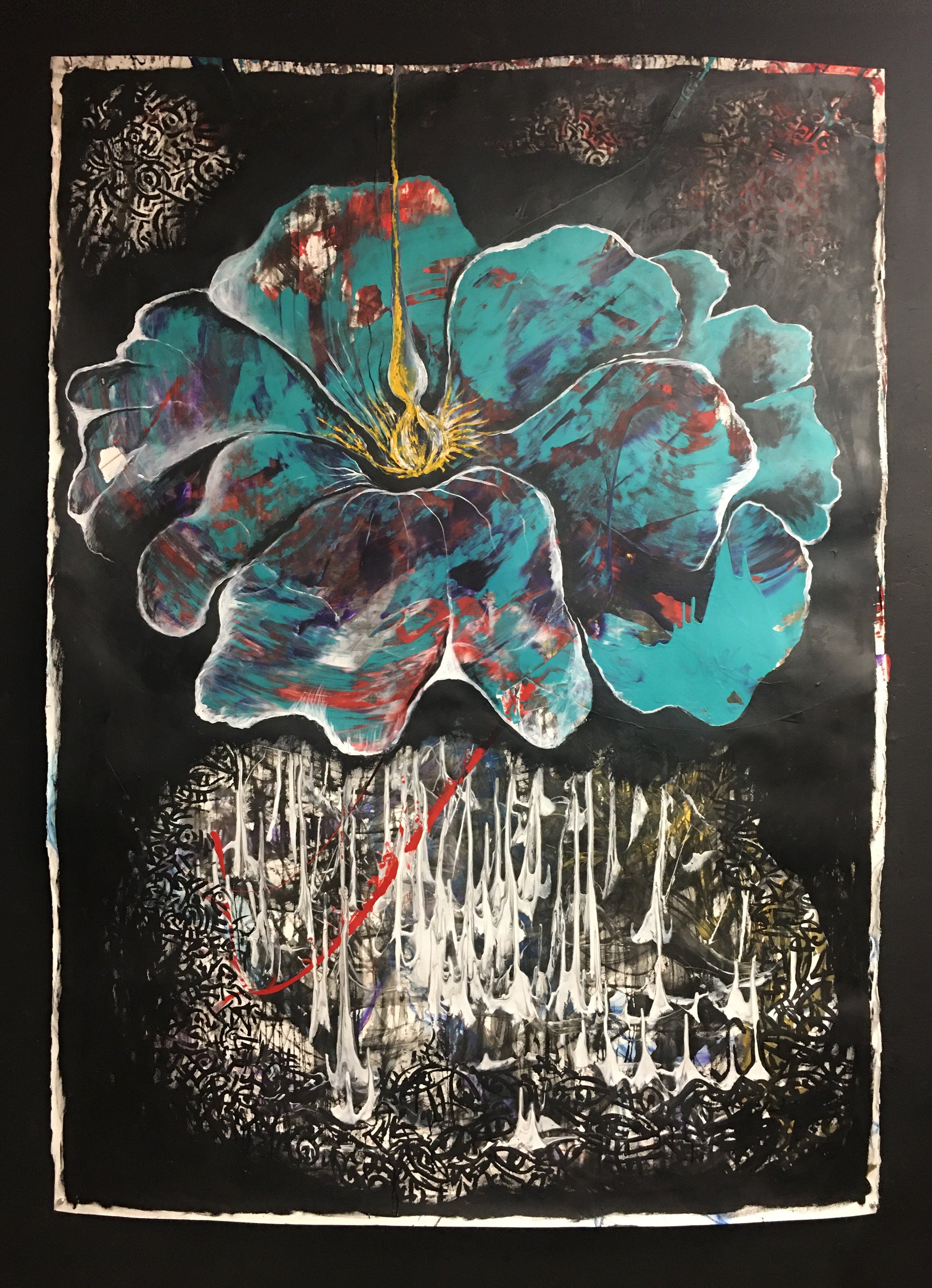 Shimmer: Adrian Arias: Mourning Flower (The sound of rain in the form of Angel Trumpet Flowers)
Adrian Arias
Regular price $5,000.00 Sale
51 x 72"

Acrylic on Arches paper
Tears in the ocean
primordial water
the wind moves them with soft and warm music
the flower is born from the shadows
and a ray in the memory makes it visible
you will never disappear
you just flow
like the eternal liquid of the veins
you flow with the silent noise of melancholy
When painting this flower, I felt that it was inventing itself, as if it had emerged from a dream. Thousands of Angel Trumpet flowers flow with their intoxicating aroma and fall into the dark night. There I discover that I am painting for my dead friends. Although I haven't seen them for a long time, they are here, now, in my studio, dictating to me the dance that painting is. 
Before concluding the painting I went to see the sea, and in front of the ocean I summoned my friends. They both loved the waves and the sound of the sea. I dedicate this work to Doris Bayly and Manuel Miranda, thank you for having fully existed, and for having given us so much. 
Adrian Arias (American, born in Peru)
Is a visual artist, poet, performer, curator, activist, art teacher and cultural promoter, who brings together multidisciplinary artists to engage in community projects with messages of social justice, racial equality, climate change, peace, beauty, health, and hope in the San Francisco Bay Area. Arias is one of the founders and creators of MAPP (Mission Arts Performance Project) and creator of festivals in the San Francisco Bay Area such as VideoFest, Luna Negra, and ILLUSION shows. Adrian uses his dreams as creative initiatives, which he makes come true in performances and community projects. He has
participated in international group exhibitions such as the Venice Biennale, The Ibero-American Biennial, The Contemporary Museum of Barcelona, and art residencies at the de Young Museum, Benamil Spain, Google new Mountain View building and at the Red Poppy Art House in San Francisco. Adrian has been commissioned to do murals in SF Chinatown and Oakland Lakeshore, in addition to the Black Lives Matter on the asphalt of the Petaluma Library, and the giant altar for George Floyd at SOMArts. Recently he has been commissioned by Luggage Store Gallery and Someland Foundation to paint a mural on two three-story buildings in the tenderloin of San Francisco, exalting art and music as a means of medicine, and combining his Mochica culture with the Ohlone culture, which is the territory where currently we are living. 
The truth of the creative moment
Art is a tool for mental and corporal liberation, therefore, a force for social justice.
Just like my ancestors from the Moche culture, from ancient Peru, I believe in art
as an expression that mixes our reality with the images created in our dreams.
The Mochicas were great observers, imaginative teachers, recreating their gods,
using art to teach daily life, the body and rituals to transform and create new
realities.