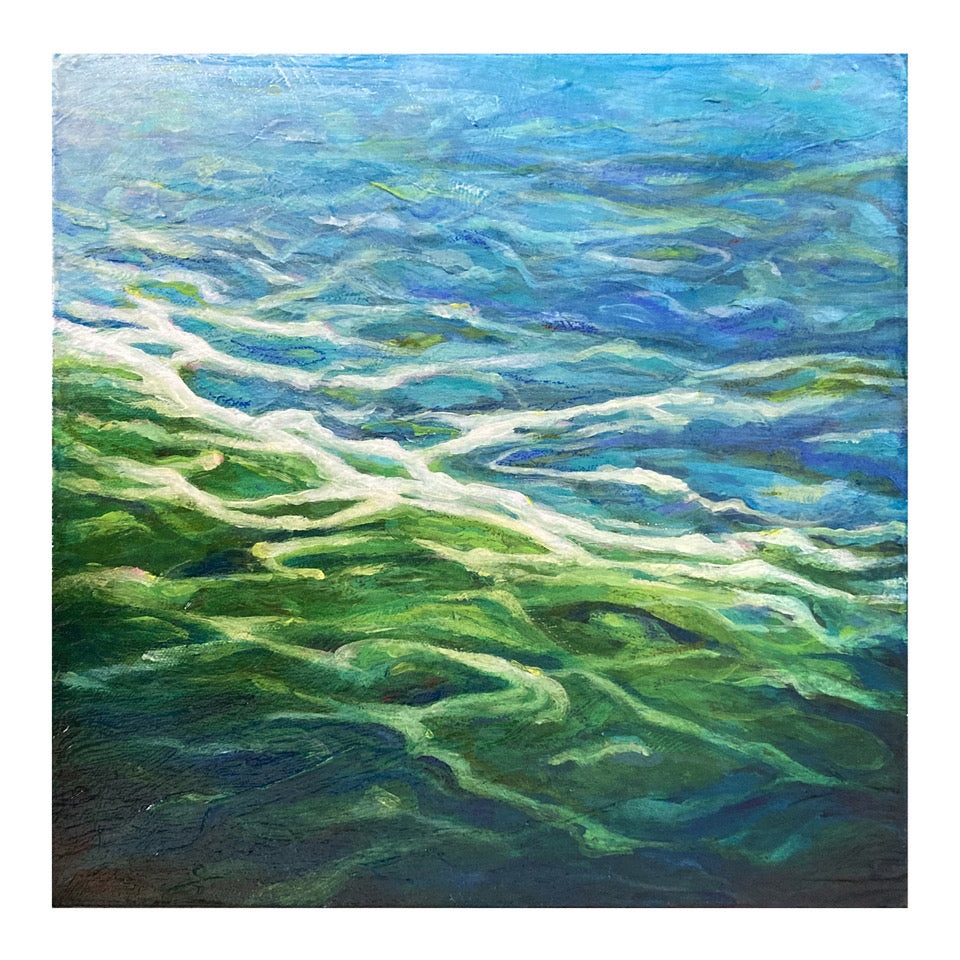 Paper Dreams: Elizabeth Addison : Water Study
Elizabeth Addison
Regular price $500.00 Sale
Water Study
12" x 17", Acrylic, mixed media
Artist Statement
Long and Winding Path
         A long and winding path led me to water in difficult and confounding times. Since March 17, one of my most consistent thoughts has been how the world is unraveling. As each new development surfaces, I ask myself if I am living through a time of great unraveling? I also ask if there are ways that my daughters, my husband and myself can be a part of a sustainable reweaving. 
       With this in mind, I leaned into the great weaving goddesses, focusing on Penelope (Odysseus' wife) for inspiration. In my research, I especially enjoyed Margaret Atwood's "Penelopiad," a feminist take on the story. During Odysseus' long absence and possible death, Penelope was encouraged chose a new husband. Her most successful strategy for holding off suitors was a weaving project. She pretended to weave a burial shroud for her father-in-law, Laertes, and claimed that she would choose a suitor only after the shroud's completion. She unwove her day's work each night to prolong her independence and have personal agency. My research led to a series of sketches and ideas incorporating fibers and a possible installation strategy. Sidetracked by emergent projects, camping trips and family, the project stalled. It occurred to me that I might be unweaving my own progress each night. 
         While pondering how to respond to my ideas with tangible artwork, I was also reading "The Overstory" by Richard Powers. The novel enveloped me within its world. A complex weaving of multiple stories and people, the novel's message aligned with my own convictions about the planet and humankind. The book colored my thoughts and excursions to the Smith River, nearby wild areas and Redwoods. I've always considered trees as beings and this pulled on my heartstrings, pulling me away from Penelope. Particularly interesting to me was how Richard Powers evoked Ovid's Metamorphosis, "Let me sing to you now, about how people turn into other things." I tried weaving Penelope and the Tree concept together, but that didn't quite spark. I went down a rabbit hole about how humans and trees share 50% of their DNA. I was about to go ahead with the concept, even though it didn't fully inspire, because the clock was ticking. I had one month to complete work for "Paper Dreams."
    As fate would have it, inspiration struck at an unlikely time and I was immediately sent in a new direction. I head to the waterfront whenever possible during these times, the After Times, especially during our elongated fire season. On this occasion, I was with my daughter along Emeryville's shore in early October. A hazy sky touched the horizon. The horizon melted into the bay. The surface seemed calm, but consistently spaced ripples suggested unseen turbulence. My daughter and I rested our elbows on the pier's rail and enjoyed each other's silence and words. We gazed into the distance and looked about, letting small movements guide our eyes. Monolithic blocks of sky and water opened to reveal uncountable hues – cerulean, indigo, turquoise, aquamarine, ultramarine, phthalo blue and turquoise, azure, stone, sapphire, deep olive, grass green, chartreuse, seaweed, mint, seafoam, sage. I also felt energized by a presence. I'm mindful how my limited human perspective often obscures my relationship to nature and I struggle with that. This, announced my new inspiration, is the chosen path. 
          Inspired by mentoring the brilliant painter, Nicole Gelormino, I decided to realize the idea by painting – and by using materials already in my studio. My studio is full of supplies collected for teaching and maybe because I'm a bit of a hoarder. I have determined to use and reuse these items… or lose them. Recycling is extremely satisfying and I was delighted to repurpose/rebirth failed or incomplete canvases.
Three of my "Paper Dreams" canvases have had previous lives. "Deep Attention" is painted atop a 2013 work from "The Crater Project." "Water Study" was my test subject for technique and palette ideas. It is painted over a 2012 abstract work about bicycle spokes. "Uncertainty," is built upon the bones of a painting I couldn't resolve from they same period. It includes buried cutouts from speculative science fiction books. Ironically, I almost did not resolve this one. "Confluence" is the only painting on an almost virgin canvas. I laid a color wash on it in January, in the Before Times. It includes two words cut out from a bible, "fate" and "deeds."
Because all my materials at hand, including imagery, I assumed smooth and swift sailing. Wrong, again. Primarily a printmaker and installation artist, I hadn't painted seriously since 2013. I had to reteach myself. This was a creative impediment, but I was compelled. Happily, there were little gifts in the struggle and resulting breakthroughs will scaffold to my other media and projects.  
For me, water ties it all together. Water was present before life began on our planet and will remain after we are gone. It will reflect, storm and nourish without a sense of karma.  
Perhaps, I'll circle back to Penelope and Tree Beings.
That's the often nonlinear creative process.
 - Elizabeth Addison