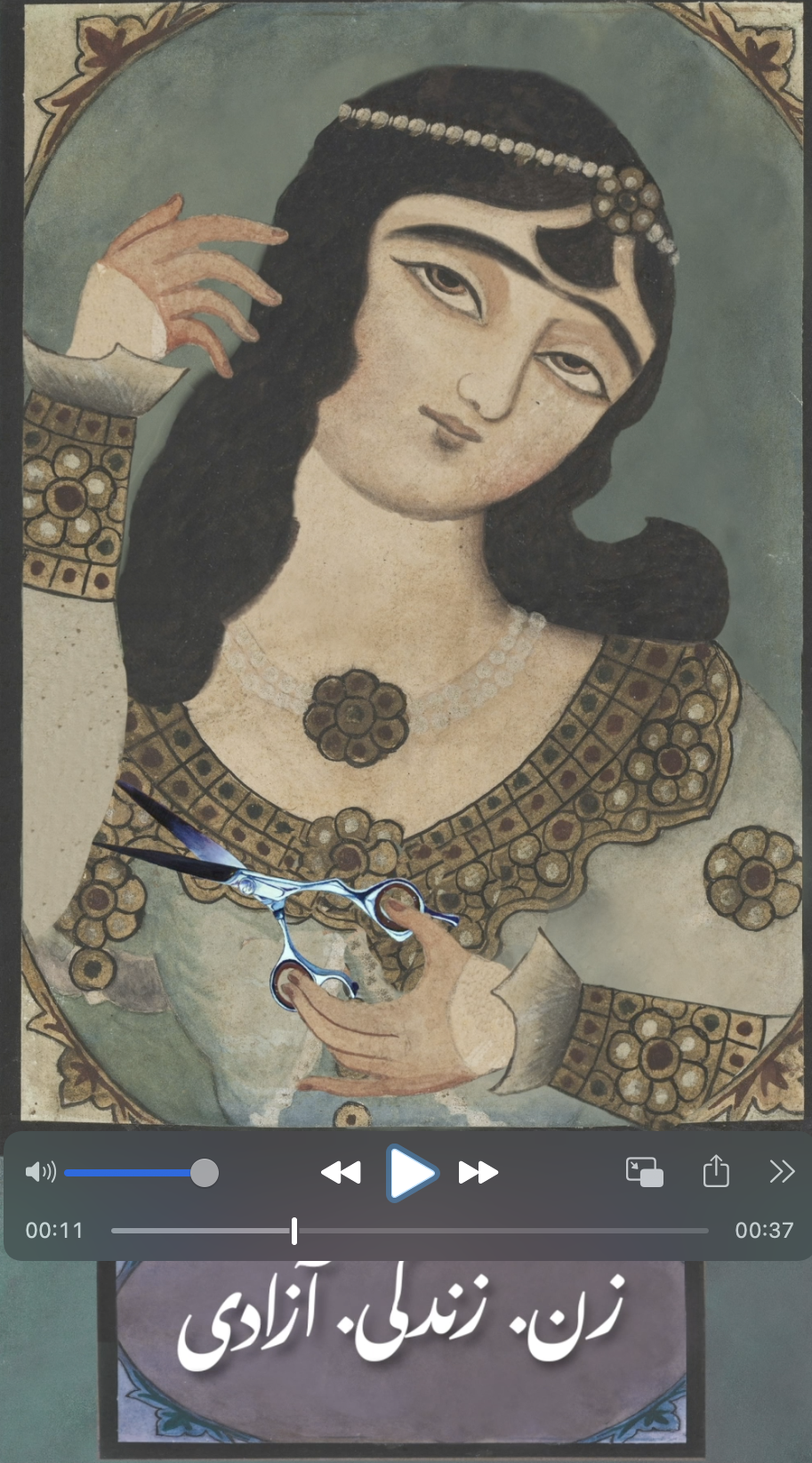 Hair : Maryam Farahzadi : Video "Cutting Hair"
Maryam Farahzadi
Regular price $2,000.00 Sale
WOMAN, LIFE, FREEDOM - CUTTING HAIR (Video)
 Iranian women started cutting their hair in protests over the death of Mahsa Amini, a young woman who died after being arrested in Tehran by Iran's notorious "morality police," who enforce the country's rules on hijabs and other conservative Islamic modes of dress and behavior.
 In the history of Iran, when women didn't have enough power to stand up, they cut their hair, It has always been a symbol of rebellion and starting a fight.
Indeed, the cutting of hair is a symbol of protest and mourning, one that goes back to Ferdowsi's Persian epic Shahnameh, one of the world's longest epic poems written between c. 977 and 1010 CE. 
This Video Art is inspired by this act of protesters against the regime's oppression of women's bodies.
For more from Maryam Farahzadi, please visit her website.
Artist Statement:
I am an Iranian filmmaker and artist, currently based in Los Angeles. My journey as a filmmaker and artist began in Iran and brought me to Los Angeles, with a stopover in New York. My art is a melting pot of ideas and voices from cultures around the world and was shaped by my upbringing in a place and time where women were expected to have neither. I chose to become a filmmaker to amplify my own voice and the voices of women, and I have crossed the world to do it.
I realized that if I genuinely wanted to pursue my passion for filmmaking and art I needed to do so without the limits and influence of my country's traditional and suppressive government. therefore I left my home country 7 years ago.
 The regime of Iran has been suppressing Iranian people, Artists, Intellectuals, and Journalists in order to keep itself in power for over 40 years.
 However, the most recent women-led Iranian uprising against the authoritarian regime not only inspired me as a filmmaker and artist in the diaspora but also inspired everyone in the world.
 As an Iranian female who has directly experienced the suppression and discrimination against women in Iran by the government and the traditional society of Iran, I was so moved and touched by the main slogan of this rebellious movement which is Zan. Zendegi. Azadi. means Woman. Life. Freedom. and this became the main theme of the artworks I created that were inspired by this progressive movement.
 Art is one of the most peaceful forms of protest but is very effective. And Artists have played an important role in bringing the Iranian protester's message to the fore.
Even though the Iranian regime has shut down the Internet in order to stop people from sharing videos of the protests and the government's crackdown, many videos are still being shared on social media. Unfortunately, these videos and images are so violent and sometimes difficult to watch. this is where artists can translate these gruesome images through their artwork, create a dialogue with the non-Iranian audience effectively and convey what's happening in Iran in a more compelling way.