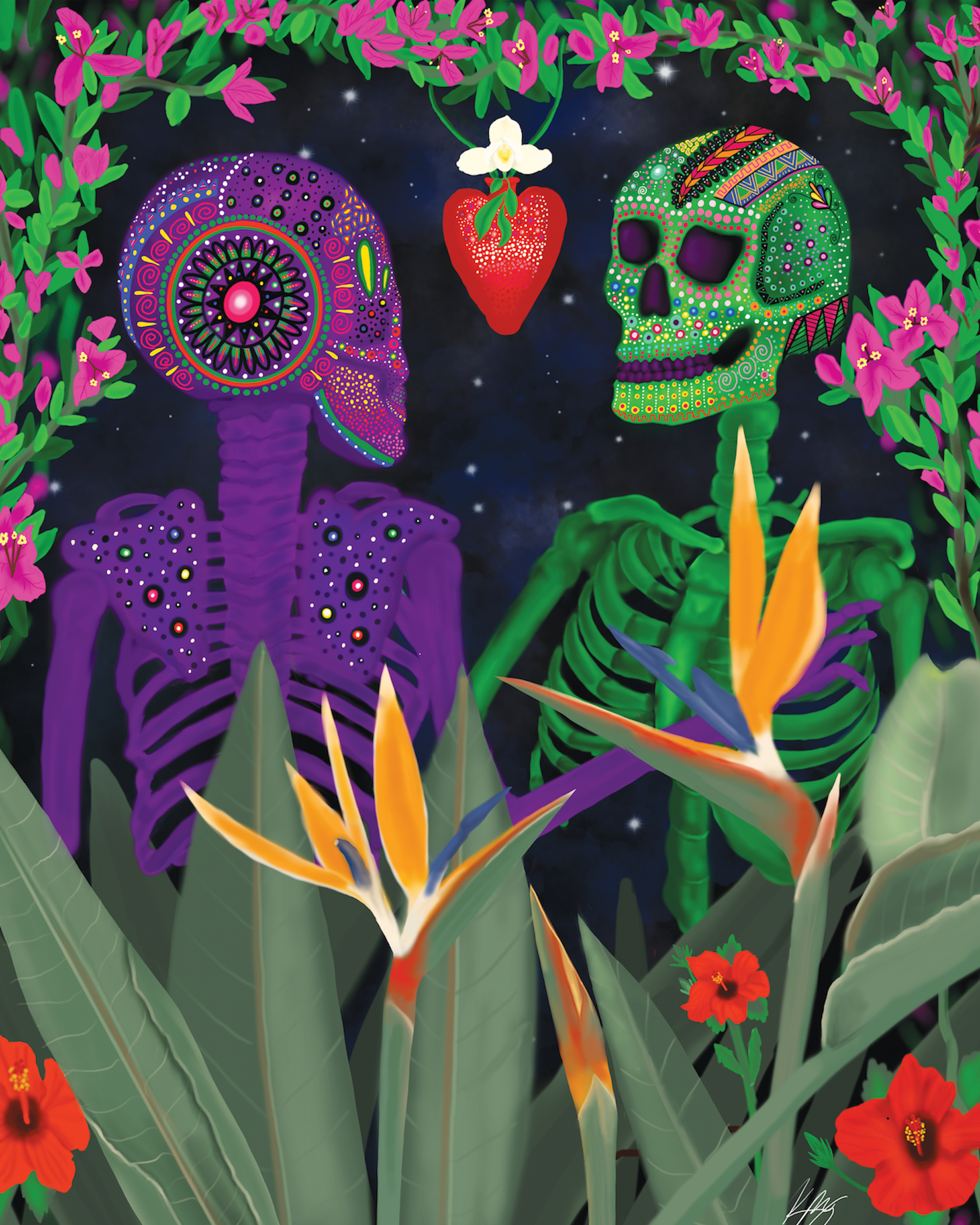 Devastating Loves & Transcendent Hatreds : Kristie Ramirez : Donde Nacen Los Flores  
Abrams Claghorn Shop
Regular price $300.00 Sale
Donde Nacen Los Flores
Metal print 
8 x 10 inches, 2023
$300
Donde Nacen Los Flores is a personal piece dedicated to the love of my life and the fear of losing each other.  
The year 2022 was a year full of ups and downs for me. I had two great things happen: I got married, and soon after, I found out I was pregnant. During my pregnancy, I lost two family members. This was extremely difficult to process during what should have been a happy time. I was flooded with all this anxiety about life and death, especially about something happening to me or my husband. The idea of losing each other and that there isn't anything after this life was frightening for me. 

This piece represents HOPE that even through the despair of loss, our love can transcend even death. I created a garden where our love can bloom even after our departure. Certain details in this piece reflect special moments and attributes of each other. I would like to thank my husband for his endless support and encouragement. Thank you, David, for being my muse. I love you. 
Kristie Ramirez is an illustrator/graphic designer based in Richmond, CA, with a Bachelor's degree in Motion Graphic Design. She has always loved art and has been fortunate to be surrounded by it growing up. She is Mexican/Guatemalan, and both countries are a big inspiration behind her art style. Kristie loves using vibrant colors and would describe her artwork as a mixture of modern, Latin folk art, and realism. Her current collection is inspired by the flowers in her garden and Mexican alebrijes.  Many of her pieces try to find light in death. When she is not in the middle of an art project, she enjoys time with her husband and her son, who was born earlier this year.