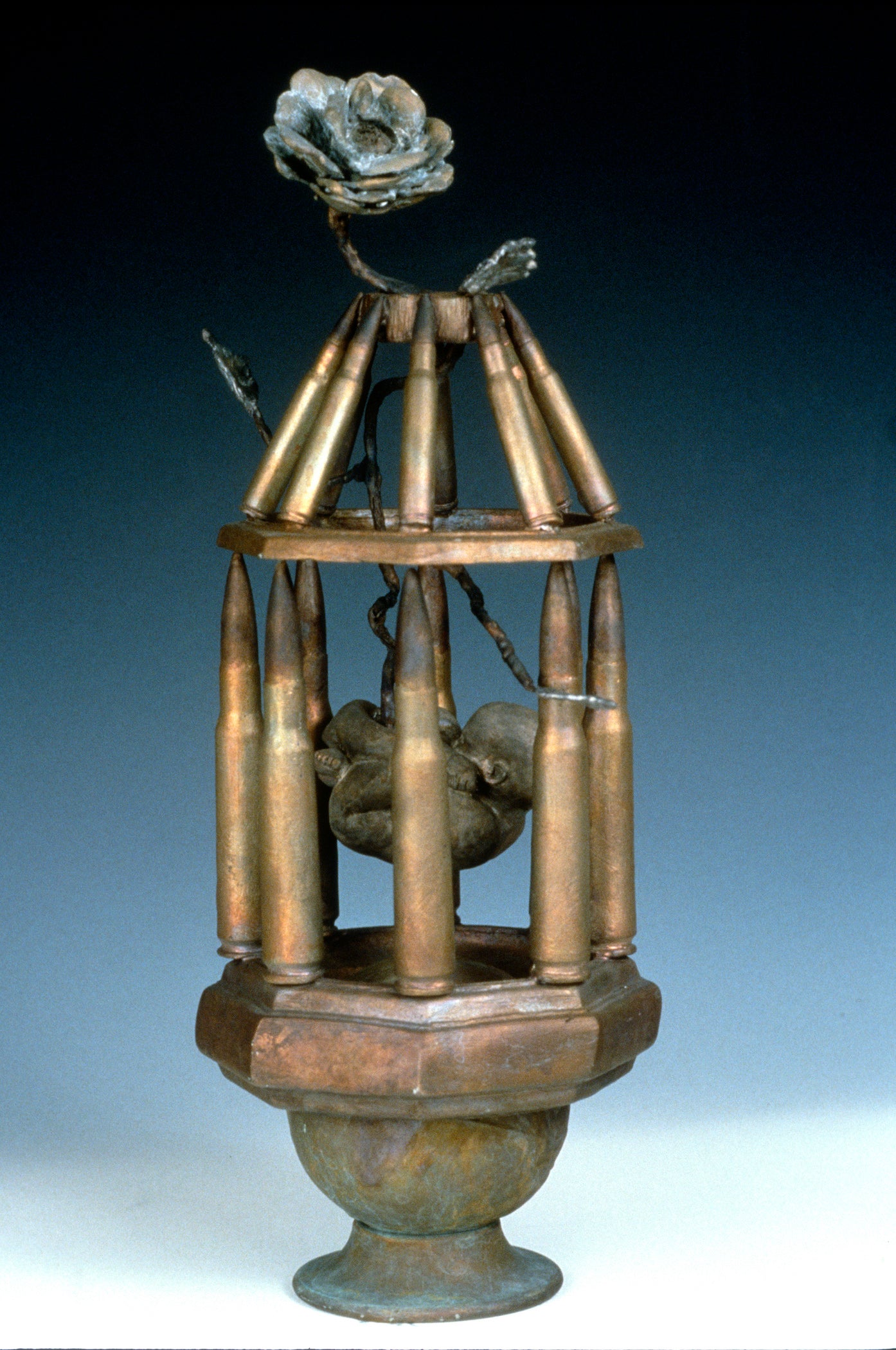 Devastating Loves & Transcendent Hatreds : Leitha L. Thrall : Hope Held Hostage
Abrams Claghorn Shop
Regular price $5,500.00 Sale
Hope Held Hostage
Bronze 
16 x 6 x 5 inches, 1996
$5,500.00
This unique (one-of-a-kind) bronze sculpture uses visual elements as symbols. It is one in a series called Opposites Intertwined.

Hope Held Hostage symbolizes two opposing forces created by man; one, a newborn life made with love; the other, mechanisms used for only one purpose–to extinguish a living being. Both include one-on-one encounters; both are fueled by passion. Those passions, for either, could be used in a gesture of love or evil. 
Evil: In the case of a crime committed upon a woman, life could be born from this heinous act. 

Love: In defense of self or of a loved one, an individual may be inclined to use an implement that kills.
For this sculpture, the baby symbolizes life and love. It hangs in the balance over the world surrounded by a cage of bullets. Its umbilical cord reaches beyond its cage of hate and destruction to nurture the beauty that can bloom outside. Unfortunately, I see and hear how innocent individuals of all ages are cheated by a world full of weapons and those who act irresponsibly. Each victim was somebody's child. My sculptures are constructed to create an interpretation of this reality. 
Leitha L. Thrall received her BA from San Jose State University. Prior to graduating, she lived one year in Pietrasanta, Italy, an international sculptors' setting, and ten months in England. Traveling through Europe, she visited many WWII memorial sites. One site recalled the story of women, elders and children being killed by soldiers, with one particularly horrible act involving an infant. 
In England, she visited the Imperial War Museum where she first saw "Trench Art." She loved the juxtaposition of art created by soldiers using spent implements of destruction. Those two experiences started her journey of making art with symbols that create impactful stories. They not only include reference news from war-torn countries, but our own weaponry misdeeds in the United States. 
Leitha's work has been shown in different venues throughout the United States and Europe. Her work has been featured in publications, catalogs, and a sculpture reference book.