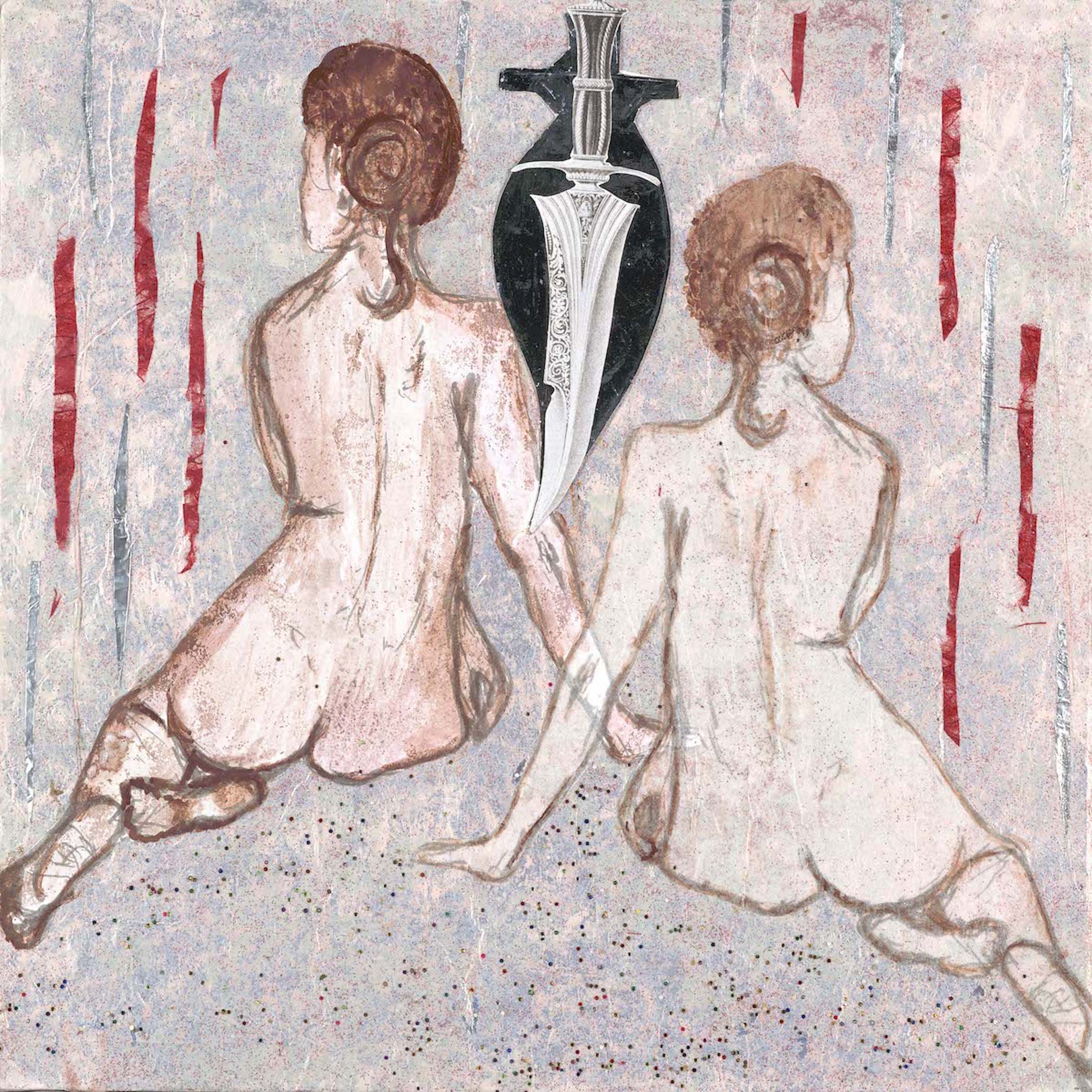 Devastating Loves & Transcendent Hatreds : Laura Abrams : Conflict
Abrams Claghorn Shop
Regular price $650.00 Sale
Conflict 
Foil, paper, pencil, watercolor, found image, glitter, and mirrored board
12 x 12 inches, 2023
$650.00
My work depicts the mental turmoil inherent in the tug-of-war between love and hatred. Conflict embodies the tension of self love and self loathing in mirror images of the same person, representing the internal fight to reconcile strong emotions that cause anguish and obsessional thoughts. The figures–one flesh, the other ghostly–are separated by a dagger, a symbol of the struggle. They look away from each other but sit close enough to clasp hands. There is a hint of violence in the red and silver streaked background: calm versus anger. Truly, devastating love and transcendental hatred are separated only by a fractured moment.
Reflecting a lifetime in the arts, Laura Abrams embraces a varied, colorful aesthetic influenced by intricate patterns, stained glass, jigsaw puzzles, nature, dance, theater, and jazz. She works primarily in drawing and mixed media collage, and has recently been focusing on life and plein air subjects. In her artwork, flora and fauna drawings and found images inhabit small scale compositions made of foil, paper, glitter and other textural materials. Each little world has a narrative found within its layers.
After a rewarding career leading the education and community programs department at Cal Performances, UC Berkeley for half her life, Laura has embarked upon a new life as a mixed media artist. She holds a BA in Art History from UCLA and an MA in Arts Administration from NYU. She is currently Professional Development Chair at the Northern California Women's Caucus for Art.