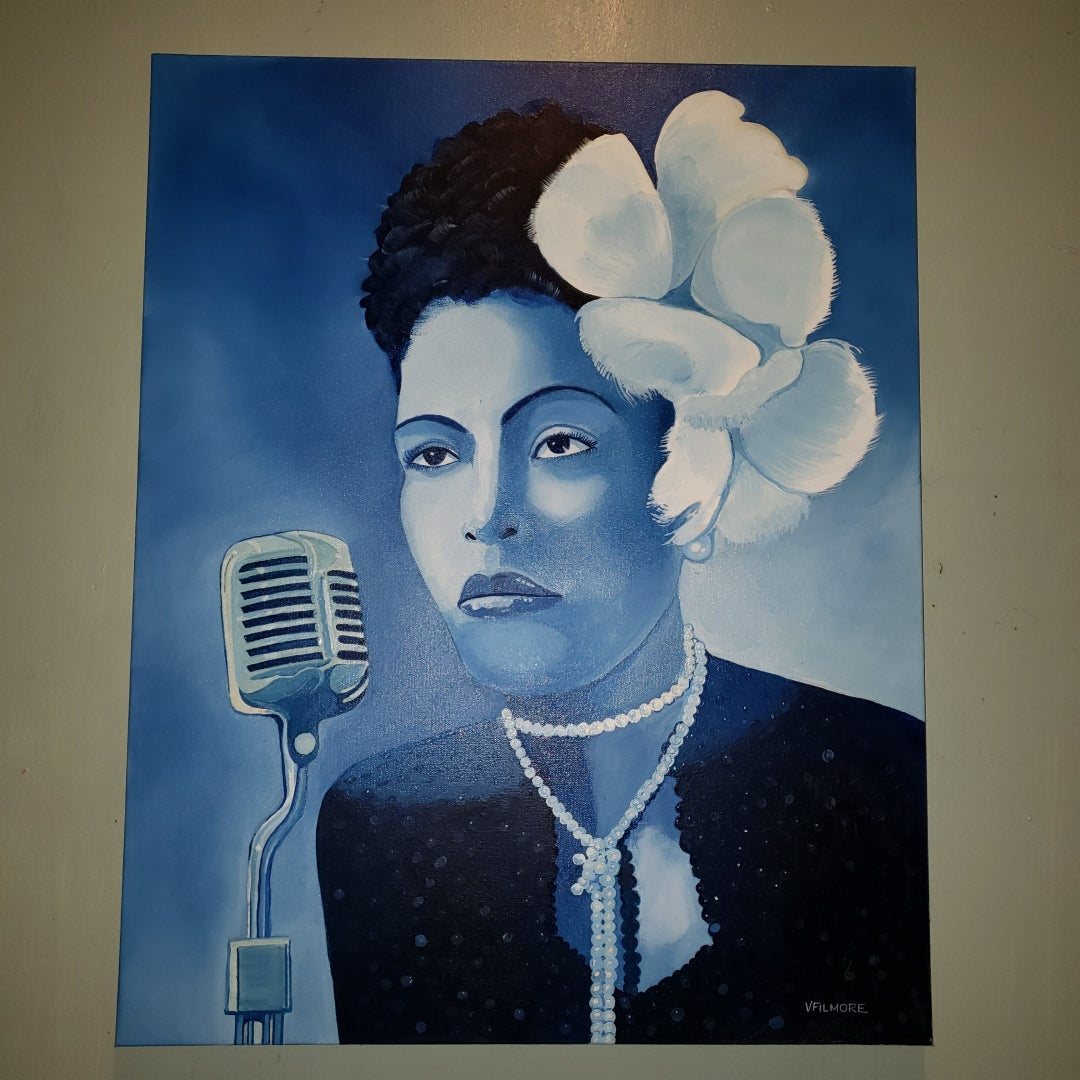 Colors of Juneteenth - Vaughn Filmore: Billie Holiday
Vaughn Filmore
Regular price $4,000.00 Sale
Billie Holiday
24x 30", Oil on Canvas
About the artist: Vaughn Filmore 
Vaughn Filmore is a prolific artist, gifted in numerous mediums including oil, watercolor, acrylic, pastel, charcoal and pen and ink. He has a particular passion for figurative painting and has captured the essence and nuances of various cultures in the production of his ethnic art collection. He has a special affinity for producing Black art, as noted in his award winning piece "Black Grandmother Guarding The Gate. Vaughn's "Jazz in Blue" series is especially popular and captures the persona of many of the greatest jazz artists of all time.
After a thirty-five year career as Art Director for the Port of Oakland, where he was responsible for graphic design, illustration, advertising, photography, videography and more, he joined with two creative partners and started  Carney Hammond Filmore, a marketing communications agency that enjoyed tremendous success and notable acclaim as one of "75 Fastest Growing Businesses" in the Bay Area. The agency had a bounty of clients from across the nation.
Vaughn later decided to "really retire" and to enjoy creating art fulltime. Vaughn shares, "It all began in college, at the California College of the Arts (then CCAC), but was lured away to play collegiate soccer at California State University at Sacramento. It was there that I studied under Dewitt James, a former art director at the Saturday Evening Post, where he worked with many famous artists of the day, including Norman Rockwell." This is where Vaughn's love and passion for design, illustration and fine art began to flourish. "Dewitt believed to be a successful artist/designer, you had to be proficient in various mediums. The ability to draw what's in your mind has helped me tremendously over the years," added Vaughn.
Vaughn's greatest artistic influence, however, is Charles White, a renowned African American artist and illustrator of WPA fame. "Many of my paintings and illustrations reflect the importance and grandeur of historical African American imagery," said Vaughn. "I like to refer to it as, African Americana."
Artist Statement – Vaughn Filmore
"My art is how I share my thoughts, ideas and passion to the public. Wrapped in what I like to call "African Americana" my imagery is from our collective past, whether it be solemn or glorious. Color, texture and history all wrapped into one piece of art."