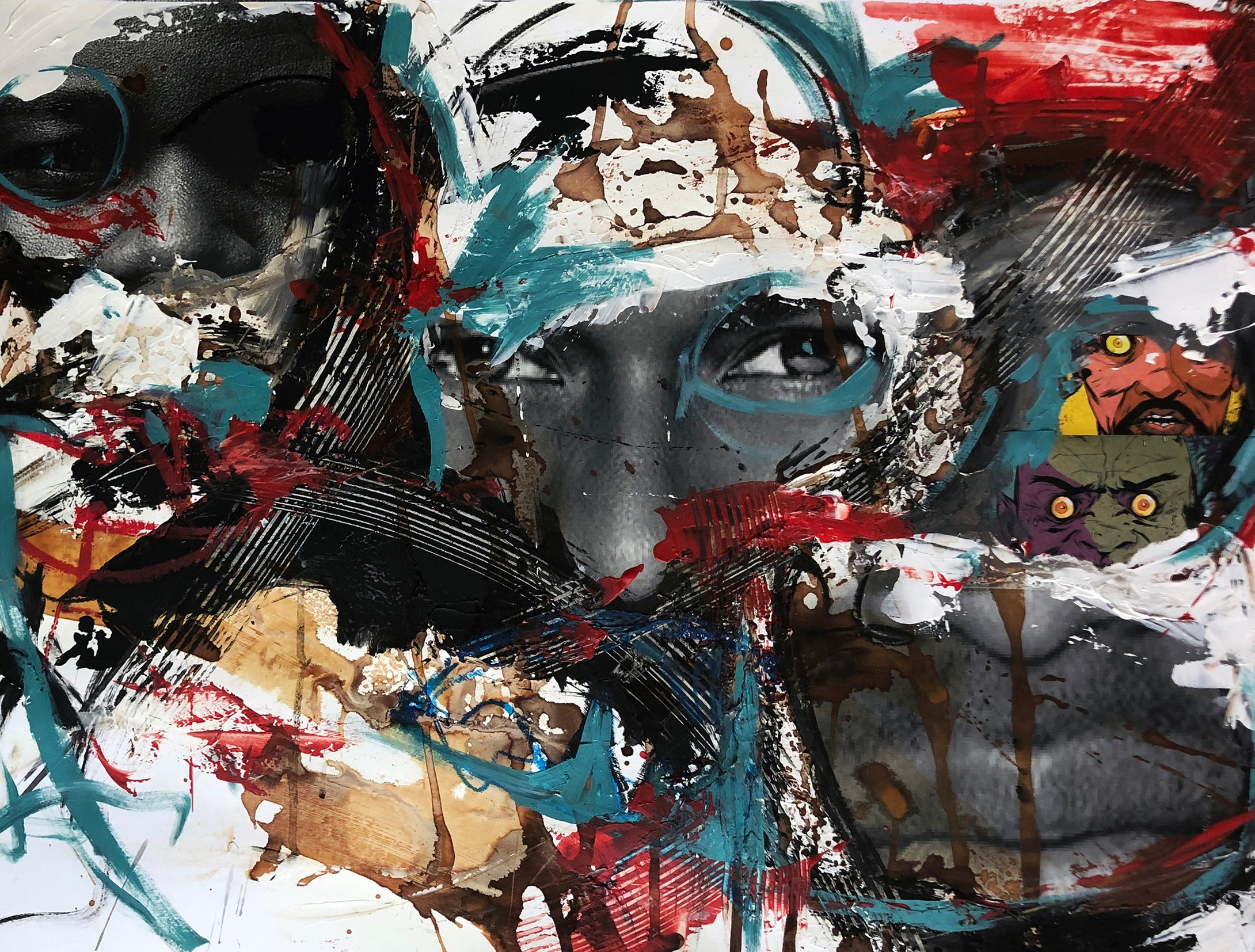 Colors of Juneteenth - Orin Carpenter: Complex Displacement
Orin Carpenter
Regular price $1,200.00 Sale
Complex Displacement
24x30", Mixed Media/Print
About the artist: Orin Carpenter
Statement
Being an artist, I have the power to bring others into the world I experience through the lens of my creations. I have the power to educate, elevate, and challenge anyone who encounters my works of art. Allowing everyone to see the world through my eyes and hopefully change their perception with a new vision and offer them the opportunity to share in the journey… my journey. As a child growing up, I loved comic books and discovered that art could be my voice and superpower to cope with the stress that came with the color of my skin. Understanding I couldn't hide in my imagination, I learned how to bring my imagination to reality. That realization I discovered, then grew into creating a world that I could share with all those who encounter my work. I learned early on that each person consists of layers. Within those layers, lies the authentic story of who that person is and can become. When approaching the creation of my art, the process is the most fulfilling component for me. Using mixed media allows an incredible marriage between materials used building into one union. This approach allows me to dig deeper into the layers of my subject regardless of what or who it may be. My experiences living as a African American Man coupled with the layers that I have developed due to living is where my inspiration stems from when creating the work that eventually comes to fruition for all to see. 
Bio 
Graduating from the University of Memphis in 1992 with a BFA in graphic design, I learned early that my desire and passion to create would not be satisfied in corporate America. I decided to make a transformation in my life by moving to San Francisco, CA to continue my education at the Academy of Art University to receive my MFA in illustration/Storyboarding. Although the transition was in the right direction, I still didn't understand how to create from the inside out since my usual form of creation came from the outside in. This epiphany evolved while teaching high school students for 14 years at Marin Catholic High School. There as the Visual and Performing Arts Director, I learned how to understand more the value of each and every story. My artistic voice matured in the many solo and juried exhibition I've been a part of in various locations (Memphis, Nashville, Atlanta, Colorado, Connecticut, New York, Washington, Rhode Island, Oakland, and San Francisco.  The ultimate destination for me was being a part of the Open Exhibit at the De Young Museum in San Francisco with many other talented artists. Now my work resides in Artize Gallery in Palm Springs, CA as well as a few publications and most recently Bay Area Book sponsored by Jen Tough Gallery in Albuquerque, New Mexico. 
As I continue to showcase my work in various galleries and exhibits, I hope to inspire others to use their artistic voice to tell their story and show how even though our stories are different, they still possess the same ingredients: struggle, challenges, and hope.